June 2020
Learn How To Survive VFR into IMC at This Month's Summer Safety Briefing!
The leading cause of all weather-related aviation accidents is VFR into IMC — flights operating under Visual Flight Rules that encounter Instrument Meteorological Conditions. In nearly all cases, the pilot in command does not have an Instrument Rating. Despite the fact that private pilot candidates receive a minimum of three hours of instrument training, the accident rate suggests that more is required.

At this month's Summer Safety Briefing, Willamette Aviation instructor and ATP Terry Tsubota will discuss Surviving VFR into IMC, which is an introduction to a Weekend Advanced Safety Training Course. Pilots will learn about Threat & Error Management, as well as Basic Attitude Instrument (BAI) flying — a technique that VFR pilots can use in case of emergency. Attendees also will have the option to sign up for a 30-minute training session in the Redbird FMX full-motion flight simulator. All Redbird flights will include pre- and post-flight discussion, and they will be offered throughout the weekend.

This month's Safety Briefing gets underway on Saturday, June 27 at 1100 hrs in the Education Hangar at Willamette Aviation, and it's eligible for FAA Wings credit. Seating is limited to 25 people, so please contact our dispatch desk to reserve your spot. (Available seats may be increased if Marion County progresses to Phase 2 reopening before June 27.) Individual Redbird FMX sessions will be offered on Saturday and Sunday, with ten slots available ($49, please contact dispatch to reserve a time). We'll also host a Community Potluck BBQ at 12 noon on Saturday, with plenty of burgers and dogs for everyone. Drop by to get a look at the airplanes on our ramp, and please bring chips, a dish, or a dessert to share if you can.
---
New Cessna 172 Skyhawk Joins Willamette Fleet!
More Cessna 172 Skyhawk aircraft have been built than any other plane in history, and it's certain they will remain popular with student pilots, renters, and owners for many years to come. We're delighted to add another Skyhawk to our rental fleet this month — N13096, a 1973 'M' model with several upgrades. In addition to the 180-hp Lycoming powerplant, the avionics set includes a Garmin GTN 750, which offers GPS, communications/navigation frequencies, and a multi-function display. Also on hand is an an autopilot and bubble windows, making this 172 an ideal aircraft for cross-country journeys. Please contact us for more information or to schedule a checkout.
---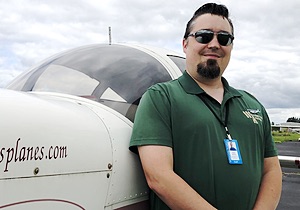 CFI Brian Whitaker Joins Willamette Aviation!
We are delighted to welcome CFI Brian Whitaker to our team at Willamette Aviation! Brian grew up in Whitefish, Mont., where he first learned about flying from his father, who was a Private Pilot. After joining the Army in 2009, he decided that he would pursue a career as a professional pilot after he left the military. He started his flight career in 2013 with helicopters, but later decided to transition to fixed-wing aircraft because of their extensive range and many flying opportunities. Brian has a degree in Business Management and Aviation Science from Portland Community College. When not flying, he enjoys being in the great outdoors with his dog, as well as floating on the river with his friends in the summer. "I discovered my love of teaching in the Army," Brian says, "and now I want to share my passion for aviation with new students who are learning how to fly." Please be sure to introduce yourself to Brian when you see him on our campus.
---
Look for more from Willamette Aviation in the next newsletter. Until then, fly smart and safe!

David F. Waggoner
Willamette Aviation
dave@willametteair.com
(503) 678-2252
---
Calendar
June 18: FAA medical exams (Janice Buenafe M.D.) (Willamette Aviation)
June 27: FAA medical exams (Janice Buenafe M.D.) (Willamette Aviation)
June 27: 1100: Summer Safety Briefing: VFR Into IMC (ATP Terry Tsubota) (Willamette Aviation)
June 27: 1200: Community Potluck BBQ (Willamette Aviation)
---
We are sending you this newsletter because you have requested it or you currently are registered to receive messages from our online scheduling system. You can remove your email address from our list by clicking here. If you would like to update your email address, please visit our Newsletter Subscription Page on our website.

Willamette Aviation Service, LLC
23115 Airport Road NE
Aurora, Oregon 97002

---