Catch Up on the Latest Apps at This Month's Safety Briefing!
Are you starting to integrate Apple's iPad or another tablet device into your cockpit routine? Or are you thinking about buying your first tablet, but not sure which apps to get? At this month's Second Saturday, Willamette Aviation CFII Mindy Fisher will provide an overview of aviation apps. Thanks to the explosion of tablets over the past several years, pilots are logging more hours with digital co-pilots that can manage a range of tasks. Mindy will offer a look at Foreflight and other aviation applications, and discuss how cockpit technology can increase situational awareness. The Foreflight briefing will cover flight planning, information gathering, filing flight plans, integration of ADSB, and FAA resources and documents. We'll also take time to look at some popular aviation weather and calculation apps. Be sure to bring your device with Foreflight ready to go!

This month's Safety Briefing gets underway on Saturday, July 25 at 1100 hrs in the Education Hangar at Willamette Aviation, and it's eligible for FAA Wings credit. Seating is limited to 25 people, so please contact our dispatch desk to reserve your spot. All attendees will be required to wear masks. We'll also host a Community Potluck BBQ at 12 noon, with plenty of burgers and dogs for everyone. Drop by to get a look at the airplanes on our ramp, and please bring chips, a dish, or a dessert to share if you can.
---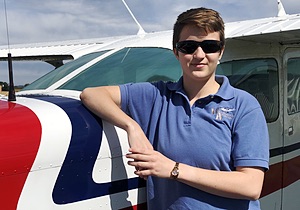 CFI Katherine Brooks joins Willamette Aviation!
We are delighted to welcome Katherine Brooks to our flight instructor team at Willamette Aviation! Katherine found love for aviation at a young age when her uncle took her for a flight in his T-34. After beginning flight training at the age of 20, she completed her Commercial Pilot Certificate in six months and shortly thereafter earned her Certified Flight Instructor Instrument Certificate. Having logged over 500 hours of flight instruction and earning a Professional Pilot Associate Degree, Katherine sought new adventures and relocated to Oregon from Florida. She looks forward to helping others achieve their aviation goals, so please be sure to introduce yourself the next time you see her on campus!
---
Aurora State Runway Closed July 7-9 for maintenance
Summer is in full swing, and we're looking forward to plenty of VFR days over the next few months. However, the Oregon Department of Aviation recently announced a runway closure at Aurora State, from Tuesday, July 7 through Thursday, July 9, for pavement maintenance and repair. The taxiway also will be intermittently closed on Friday, July 10. The runway may open sooner than expected if work is completed ahead of schedule. While we don't like keeping our airplanes grounded under blue skies, we are looking forward to the improved runway. In the meantime, instructors will be available during the closure for ground lessons, and the Redbird FMX full-motion flight simulator can be booked for flight lessons as well.
---
Calendar
July 16: FAA medical exams (Janice Buenafe M.D.) (Willamette Aviation)
July 25: FAA medical exams (Janice Buenafe M.D.) (Willamette Aviation)
July 25: 1100: Summer Safety Briefing: Aviation Apps (CFII Mindy Fisher) (Willamette Aviation)
July 25: 1200: Community Potluck BBQ (Willamette Aviation)
---
We are sending you this newsletter because you have requested it or you currently are registered to receive messages from our online scheduling system. You can remove your email address from our list by clicking here. If you would like to update your email address, please visit our Newsletter Subscription Page on our website.

Willamette Aviation Service, LLC
23115 Airport Road NE
Aurora, Oregon 97002

---