Review Airport Operations at This Month's Summer Safety Briefing!
The Aurora State Airport is a busy place, and this summer is no different than any other year. In addition to near-constant flight training operations, everything from small personal aircraft to helicopters and large corporate jets can be seen landing and departing at all hours of the day. At this month's Summer Safety Briefing, Aurora State Tower Chief Ronnie Lewis will drop by to discuss Airport Operations, with a specific focus on lessons learned over the past 12 months by the Local Runway Safety Action Team (LRSAT). Runway incursions are always a high-priority safety topic, and we'll hear from the team on what we can do as pilots to keep these to an absolute minimum. We also expect to get tips on how pilots should interact with the tower for effective communication, and we'll be sure to take your questions as well. Don't miss this one!

This month's Safety Briefing gets underway on Saturday, Aug. 22 at 1100 hrs in the Education Hangar at Willamette Aviation, and it's eligible for FAA Wings credit. Seating is limited to 25 people, so please contact our dispatch desk to reserve your spot. All attendees will be required to wear masks. We'll also host a Community Potluck BBQ at 12 noon, with plenty of burgers and dogs for everyone. Drop by to get a look at the airplanes on our ramp, and please bring chips, a dish, or a dessert to share if you can.
---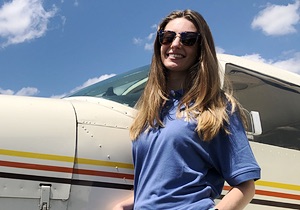 CFI Hannah Neill joins Willamette Aviation!
We're delighted to welcome Hannah Neill to our flight instruction team at Willamette Aviation! Hannah grew up inspired to fly by her uncle, a Boeing 777-300 captain. He always encouraged her to take flight lessons, but it was a scenic helicopter flight over the Cascades at sunset that convinced her to finally call a local flight school for a discovery flight. Ever since her first hour in her logbook a few years ago, Hannah's passion for aviation has continued to grow. She loves flying competition aerobatics in her Super Decathlon — she placed second in her first ever contest in 2019, and she took home a first-place finish in 2020. When not flying upside down or instructing, Hannah loves photography, as well as hiking and camping throughout Oregon and Washington. She became a flight instructor to support, encourage, and push her students to reach their full potential in aviation. "I've never met people as generous and supportive as pilots," she says. "We really are a special bunch." Please feel free to introduce yourself to Hannah the next time you see her in the pilot's lounge or on our ramp!
---
Calendar
Aug. 20: FAA medical exams (Janice Buenafe M.D.) (Willamette Aviation)
Aug. 22: FAA medical exams (Janice Buenafe M.D.) (Willamette Aviation)
Aug. 22: 1100: Summer Safety Briefing: Aurora Tower (Willamette Aviation)
Aug. 22: 1200: Community Potluck BBQ (Willamette Aviation)
---
We are sending you this newsletter because you have requested it or you currently are registered to receive messages from our online scheduling system. You can remove your email address from our list by clicking here. If you would like to update your email address, please visit our Newsletter Subscription Page on our website.

Willamette Aviation Service, LLC
23115 Airport Road NE
Aurora, Oregon 97002

---