Review Special Use Airspace at This Month's Safety Briefing!
The complexity of airspace presents special challenges to pilots, especially when undertaking cross-country flights. At this month's Summer Safety Briefing, Willamette Aviation CFI Josh Peterson will offer a look at Special Use Airspace and what common mistakes you should avoid. A poor understanding of Special Use Airspace, combined with improper preflight planning, can lead to a pilot deviation, and even a violation of a FAR. Serious incidents and accidents also are possible. Josh will discuss Temporary Flight Restrictions (TFRs), NOTAMs, information resources, and flight-planning strategies to reach your destination.

This month's Safety Briefing gets underway on Saturday, Sept. 12 at 1100 hrs in the Education Hangar at Willamette Aviation, and it's eligible for FAA Wings credit. Seating is limited to 25 people, so please contact our dispatch desk to reserve your spot. All attendees will be required to wear masks. We'll also host a Community Potluck BBQ at 12 noon, with plenty of burgers and dogs for everyone. Drop by to get a look at the airplanes on our ramp, and please bring chips, a dish, or a dessert to share if you can.
---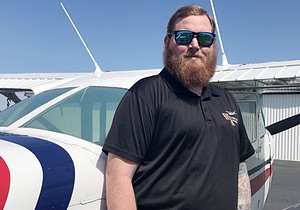 Short Finals…
· We're happy to welcome Josh Peterson to our team of flight instructors at Willamette Aviation! Josh was born and raised in Southern California. After high school, he joined the U.S. Navy as an Information Technology specialist. While in the military, Josh managed communications for the Special Operations community. After leaving the service, he took up wildland firefighting, working on various crews and engines, and he intends to return to firefighting eventually, this time as a tanker pilot. Josh took advantage of the GI Bill to complete all of his aviation ratings up to CFI, based for a time in Central Oregon. Now flying at Willamette Aviation in Aurora, he looks forward to meeting pilots and helping them reach their goals. Feel free to introduce yourself to Josh the next time you see him on our campus.

· Our Private Pilot Ground School fall session gets underway this month — it's good value for student pilots, people who are getting ready to fly, and anyone who needs a refresher. The 40-hour, FAA-certified course is led by certified instructors and includes five complimentary hours in our Flight Lab (instruction fees apply), as well as free attendance to any future private pilot course. Classes start on Saturday, Sept. 19, and run each Saturday for 12 weeks from 0800-1200. New students who pay by Sept. 19 will receive a 10% discount on ground school tuition ($423, regularly $470) and course materials ($134.95, regularly $149.95) as well as 10% off in the Pilot Shop for the duration of the class.
---
Calendar
Sept. 12: 1100: Summer Safety Briefing: Special Use Airspace (CFI Josh Peterson) (Willamette Aviation)
Sept. 12: 1200: Community Potluck BBQ (Willamette Aviation)
Sept. 17: FAA medical exams (Janice Buenafe M.D.) (Willamette Aviation)
Sept. 19: 0800: Private Pilot Ground School: Start of Fall Session (Willamette Aviation)
Sept. 26: FAA medical exams (Janice Buenafe M.D.) (Willamette Aviation)
---
We are sending you this newsletter because you have requested it or you currently are registered to receive messages from our online scheduling system. You can remove your email address from our list by clicking here. If you would like to update your email address, please visit our Newsletter Subscription Page on our website.

Willamette Aviation Service, LLC
23115 Airport Road NE
Aurora, Oregon 97002

---