Review Special Use Airspace at This Month's Second Saturday!
The complexity of airspace presents special challenges to pilots, especially when undertaking cross-country flights. At this month's Second Saturday Seminar, Willamette Aviation CFI Josh Peterson will offer a look at Special Use Airspace and what common mistakes you should avoid. A poor understanding of Special Use Airspace, combined with improper preflight planning, can lead to a pilot deviation, and even a violation of a FAR. Serious incidents and accidents also are possible. Josh will discuss Temporary Flight Restrictions (TFRs), NOTAMs, information resources, and flight-planning strategies to reach your destination.

Regular attendees should note that we are adjusting the start-time for our 2020-21 Second Saturday series, which will run every month from October to May. This month's event gets underway on Oct. 10 at 1300 in the Education Hangar at Willamette Aviation, and it's eligible for FAA Wings credit. Seating is limited to 25 people, so please contact our dispatch desk to reserve your spot. All attendees will be required to wear masks. We'll see you there!
---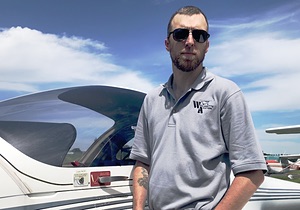 CFI Chris Reese Joins Willamette Aviation!
We are delighted to welcome Chris Reese to our team of flight instructors at Willamette Aviation! Chris has had a passion for aviation from an early age. Pictures of his grandfather flying in the U.S. Navy, along with the discovery flights his parents gifted him as a teen, helped to solidify his desire to fly (the release of Top Gun when he was very young probably helped as well). After enlisting in the U.S. Navy and completing two deployments, Chris spent 12 years in the firearms industry. He then took advantage of a Veterans Administration benefit that covers flight training, moved to Oregon, and completed an Aviation Science degree at Central Oregon Community College. Chris is now instructing at Willamette Aviation, while also working on an Operations Management degree at the Oregon Institute of Technology. When not flying, he can usually be found rolling around the airport or in the local area on his Onewheel. Feel free to introduce yourself to Chris the next time you seem him on the ramp or in the pilot's lounge.
---
Calendar
Oct. 10: 1300: Second Saturday Seminar: Special Use Airspace (CFI Josh Peterson) (Willamette Aviation)
Oct. 15: FAA medical exams (Janice Buenafe M.D.) (Willamette Aviation)
Oct. 24: FAA medical exams (Janice Buenafe M.D.) (Willamette Aviation)
---
We are sending you this newsletter because you have requested it or you currently are registered to receive messages from our online scheduling system. You can remove your email address from our list by clicking here. If you would like to update your email address, please visit our Newsletter Subscription Page on our website.

Willamette Aviation Service, LLC
23115 Airport Road NE
Aurora, Oregon 97002

---