March 2021
FAA Issues Brief No-Fly Requirement for J&J Vaccine
On Feb. 27, the FAA's Office of Aerospace Medicine (OAM) issued a brief no-fly policy after a Johnson & Johnson COVID-19 vaccination is administered. Pilots, required aircrew, and controllers who receive a Johnson & Johnson COVID-19 vaccine must wait 48 hours before returning to flying or controlling aircraft. A statement from the agency noted that they will "continuously monitor the initial distribution of the Johnson & Johnson COVID-19 vaccine and will adjust the recommendations as needed."

The no-fly policy was issued on the same day that the Food and Drug Administration (FDA) granted emergency use of the vaccine, which is the third to be approved within the United States. The FAA issued a similar 48-hour no-fly order for the two-dose Pfizer-BioNTech and Moderna COVID-19 vaccines when they received emergency authorization earlier this year. Unlike these vaccines, the J&J vaccine requires only one dose.

We are strongly advocating that our customers receive vaccination for the 2019 Novel Coronavirus when one is made available to them. We are looking forward to the gradual lifting of mask mandates this year — in our airplanes and classrooms, and eventually across our campus. For more information on the FAA's recent order, please see this article on the AOPA website.
---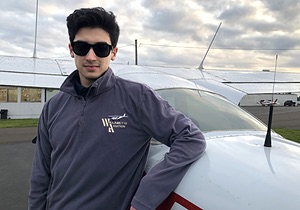 Short Finals…
· We're delighted to welcome Bryant Vasquez to our team of flight instructors at Willamette Aviation! Bryant grew up in Portland and began flying at the age of 14. After graduating high school, he earned his Private Pilot certificate and then quickly moved on to Commercial Pilot with additional ratings. Bryant has always had the goal of becoming an airline pilot — when he was 19, he joined the Horizon Pilot Development (PDP) program, which helped him become a Certified Flight Instructor. "Having great instructors throughout my training is what made me want to start teaching," Bryant says. "I'm looking forward to helping aspiring pilots achieve their aviation goals as well." Please be sure to say "Hi!" to Bryant the next time you see him on our campus.

· The Air Safety & Education Foundation — the charitable arm of the Oregon Pilots Association — is accepting applications for this year's Raymond Meyer Memorial Scholarship. An avid flyer, Raymond loved to share his enthusiasm for aviation. Applicants for the 2021 scholarship ($2,000) must be at least 16 years old, a resident of Oregon, hold a minimum 2.5 high school or college GPA if enrolled, and must have successfully soloed an airplane. For more information, please visit www.oregonpilot.org/scholarships.
---
Look for more from Willamette Aviation in the next newsletter. Until then, fly smart and safe!

David F. Waggoner
Willamette Aviation
dave@willametteair.com
(503) 678-2252
---
Calendar
March 18: FAA medical exams (Janice Buenafe M.D.) (Willamette Aviation)
March 27: FAA medical exams (Janice Buenafe M.D.) (Willamette Aviation)
---
We are sending you this newsletter because you have requested it or you currently are registered to receive messages from our online scheduling system. You can remove your email address from our list by clicking here. If you would like to update your email address, please visit our Newsletter Subscription Page on our website.

Willamette Aviation Service, LLC
23115 Airport Road NE
Aurora, Oregon 97002

---