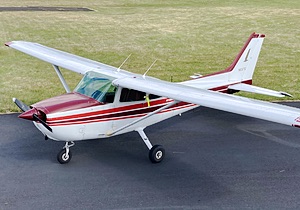 Skyhawk N8317G Joins Willamette Fleet!
We're excited to add another Cessna 172 to our fleet of rental aircraft at Willamette Aviation — N8317G is a 1975 172M with a 160-hp Lycoming powerplant and a recently updated interior. The avionics panel includes dual Nav/Com radios. Most pilots should expect extra time during an aircraft checkout to learn the radio panel's functions. Our latest Skyhawk also has ADS-B in and out, which can be accessed with mobile devices.

We now have five Cessna 172s in our rental fleet, which we offer to customers at a range of hourly rates. N8317G is our least-expensive option, renting for $149 per hour. We've enjoyed its nimble characteristics during our test flights. Please contact us or reach out to a flight instructor if you'd like to schedule a checkout or familiarization flight.
---
Review Airport Operations with Tower Chief This Month!
The Aurora State Airport is a busy place, and this summer will be no different than any other year. Aurora State Tower Chief Ronnie Lewis will drop by Willamette Aviation this month to discuss Airport Operations, with a specific focus on lessons learned over the past 12 months by the Local Runway Safety Action Team (LRSAT). Runway incursions are always a high-priority safety topic, and we'll learn what we can do as pilots to keep these to an absolute minimum. We also expect to get tips on how pilots should interact with the tower for effective communication, and we'll be sure to take your questions as well. We will get started on Friday, June 25 at 1400 hours. Please feel free to drop by and visit with our tower chief!
---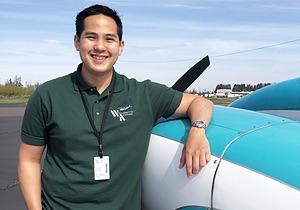 Short Finals…
· We're delighted to welcome Kyle Francia to our team of flight instructors at Willamette Aviation! Kyle resided in Manila for most of his life, where he worked in both food & beverage consulting and business incubation. Since then, he's moved to Oregon to fulfill a lifelong dream: a professional career in aviation. With experience in both Oregon and Nevada airspaces, he has developed a passion for instructing — and he hopes to help others become better pilots, even after he transitions to the airlines. Kyle hopes to meet all of you out in the airport — and if you surf, he'd be happy to meet up with you at the Oregon Coast!

· The summer flying season is well underway, and we'll be hosting our first Community Potluck BBQ of 2021 this month. We are planning to resume our educational series, which includes our Summer Safety Briefings, after Oregon's COVID-19 restrictions are eased. Everyone is invited to drop by our ramp on fourth Saturdays during the summer months to talk to flight instructors, check out the airplanes, watch takeoffs and landings from our viewing area, and catch up with old friends. The BBQ gets underway on Saturday, June 26 — we'll start frying up the burgers and dogs at 12 noon. Please bring chips, a dish, or a dessert to share if you can.
---
Calendar
June 17: FAA medical exams (Janice Buenafe M.D.) (Willamette Aviation)
June 25: 1400: Local Runway Safety Action Team (Willamette Aviation)
June 26: FAA medical exams (Janice Buenafe M.D.) (Willamette Aviation)
June 26: 1200: Community Potluck BBQ (Willamette Aviation)
---
We are sending you this newsletter because you have requested it or you currently are registered to receive messages from our online scheduling system. You can remove your email address from our list by clicking here. If you would like to update your email address, please visit our Newsletter Subscription Page on our website.

Willamette Aviation Service, LLC
23115 Airport Road NE
Aurora, Oregon 97002

---