Manage Density Altitude at This Month's Safety Briefing!
Summer in the Pacific Northwest offers two things to aviators — clear skies and hot temperatures. Pilots also log more cross-country hours in the summer, often to airports with high field elevations. At this month's Summer Safety Briefing, Willamette Aviation CFII Brian Whitaker will review High Density Altitude Operations, with an emphasis on summer flying. Both hot temperatures and high altitudes contribute to greater density altitude, which not only reduces your airplane's aerodynamic performance, but also the engine's horsepower output. Brian will discuss specific considerations when operating in "high, hot, and humid" conditions, including how to make effective go/no-go decisions.

This month's Safety Briefing gets underway on Saturday, July 24 at 1100 hrs in the Education Hangar at Willamette Aviation, and it's eligible for FAA Wings credit. We'll also host a Community Potluck BBQ at 12 noon, with plenty of burgers and dogs for everyone. Drop by to get a look at the airplanes on our ramp, and please bring chips, a dish, or a dessert to share if you can.
---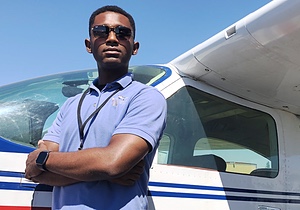 Short Finals…
· We're delighted to welcome Stephan Jean-Paul to our team of flight instructors at Willamette Aviation! Stephan is a Chicago-born, Texas-raised pilot who has had his eyes to the skies since he was two years old. His passion for aviation, alongside his patriotic spirit, drove him to join the U.S. Navy in 2013, working in Aviation Administration until 2017. After two deployments — to the Middle East, and more than two years at sea onboard the USS Carl Vinson — Stephan began his journey to becoming an airline pilot. He's always looking to broaden his education — holding AS degrees in Technology Management and Professional Pilot, and very soon a BS in Operations Management. Stephan relocated to Oregon for flight training, and he holds CFII and MEI ratings. He looks forward to sharing his aviation experience with our flying community. Please be sure to introduce yourself to Stephan the next time you see him around the FBO!

· We're happy to announce that Cessna 150 N17251 has returned to service, which restores two 150s to our flight line. The Cessna 150 has always been a popular choice for flight training, not only for the cost-savings that it offers, but also for its stable handling characteristics, making it an ideal first airplane for a lot of new pilots. N17251 has been part of the Willamette fleet for two decades, and it returns to customers with a new engine, as well as a NGT-9000 transponder giving it ADS-B in and out. Feel free to reach out to our dispatch desk or a flight instructor to schedule a flight.
---
Calendar
July 15: FAA medical exams (Janice Buenafe M.D.) (Willamette Aviation)
July 24: FAA medical exams (Janice Buenafe M.D.) (Willamette Aviation)
July 24: 1100: Summer Safety Briefing: High Density Altitude Operations (CFII Brian Whitaker) (Willamette Aviation)
July 24: 1200: Community Potluck BBQ (Willamette Aviation)
---
We are sending you this newsletter because you have requested it or you currently are registered to receive messages from our online scheduling system. You can remove your email address from our list by clicking here. If you would like to update your email address, please visit our Newsletter Subscription Page on our website.

Willamette Aviation Service, LLC
23115 Airport Road NE
Aurora, Oregon 97002

---