Review Collision Avoidance at This Month's Safety Briefing!
Summer in the Pacific Northwest means busy general aviation airports — and that means more congested airspace. The accident record indicates that mid-air collisions are most likely to happen under clear skies and unlimited visibility, when traffic patterns and common routes between airports are at their busiest. At this month's Summer Safety Briefing, CFII Kyle Francia will discuss an oft-neglected topic — visual scanning and collision avoidance in uncontrolled airspaces. With more pilots taking advantage of summer flying in Oregon, the chances of collisions and "near misses" rise significantly. Kyle will lead a discussion of common factors that cause these accidents, and he will provide an opportunity for the community to work on techniques to make our airspace safer for all.

This month's Safety Briefing gets underway on Saturday, Aug. 28 at 1100 hrs in the Education Hangar at Willamette Aviation, and it's eligible for FAA Wings credit. We'll also host a Community Potluck BBQ at 12 noon, with plenty of burgers and dogs for everyone. Drop by to get a look at the airplanes on our ramp, and please bring chips, a dish, or a dessert to share if you can.
---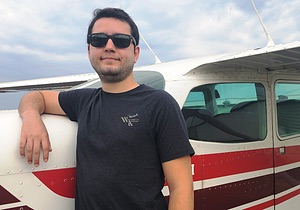 Juan Cammarata Joins Willamette Aviation CFI Team!
This month, we're delighted to welcome Juan Cammarata to our flight instruction team at Willamette Aviation! Juan is originally from Venezuela, but he began his flying career as a student pilot in Daytona Beach. He earned his Commercial Certificate in just seven months and then returned to Venezuela to convert his FAA certification to an ICAO equivalent. Juan then enrolled at Embry-Riddle Aeronautical University in Florida, pursuing a bachelor's degree in Aeronautics. Transferring to Embry-Riddle's Portland campus, Juan adapted to using our local volcanoes as visual reference-points. "I was lucky to have found excellent flight instructors at the beginning of my aviation career," he says. "Since day one, I have known that a good pilot is a safe pilot, and that is one of the main things that I want to pass onto my students." Please be sure to introduce yourself to Juan when you see him on the ramp or in the pilot's lounge!
---
Calendar
Aug. 19: FAA medical exams (Janice Buenafe M.D.) (Willamette Aviation)
Aug. 28: FAA medical exams (Janice Buenafe M.D.) (Willamette Aviation)
Aug. 28: 1100: Summer Safety Briefing: Collision Avoidance (CFI Kyle Francia) (Willamette Aviation)
Aug. 28: 1200: Community Potluck BBQ (Willamette Aviation)
---
We are sending you this newsletter because you have requested it or you currently are registered to receive messages from our online scheduling system. You can remove your email address from our list by clicking here. If you would like to update your email address, please visit our Newsletter Subscription Page on our website.

Willamette Aviation Service, LLC
23115 Airport Road NE
Aurora, Oregon 97002

---