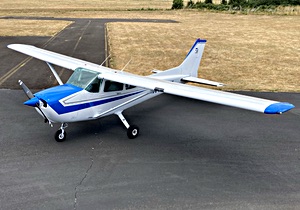 Skyhawk N691W Joins Willamette Fleet!
We're excited to add another Cessna 172 to our fleet of rental aircraft at Willamette Aviation — N691W is a 1982 172P with a 180-hp Lycoming powerplant and a recently updated interior. The avionics panel includes dual Nav/Com radios and a Garmin 430 with ADS-B in and out. Pilots with Cessna 172 experience will have no trouble transitioning to 691W, which displays the best characteristics of all Skyhawks of this era. In addition to the recently painted blue-and-white color scheme, this 172 also boasts comfortable seats with extra cushioning.

We now have six Cessna 172s in our rental fleet, which we offer to customers at a range of hourly rates. 691W rents for $164 per hour. Please contact us or reach out to a flight instructor if you'd like to schedule a checkout or familiarization flight.
---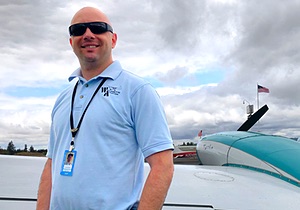 Short Finals…
· We are delighted to welcome Caleb Bauer to our team of flight instructors at Willamette Aviation! Caleb lived in Hawaii for most of his life, where he enjoyed all that the islands have to offer, such as surfing and diving. His passion for flying started as a child, when he did a lot of traveling with his family and he realized that flights on airplanes were exciting. As a senior in high school, when Caleb had to decide on a career, he realized nothing would be better for him than professional aviation. He completed his flight training in Oregon with both CFII and MEI ratings. When not flying, he enjoys snowboarding, backpacking, and playing the drums. "My style of instructing is focused on two major aspects," Caleb says. "Safety-oriented professionalism, and having fun. Flying, and flight training, is something to be enjoyed."

· Our Private Pilot Ground School fall session gets underway this month — it's good value for student pilots, people who are getting ready to fly, and anyone who needs a refresher. The 40-hour, FAA-certified course is led by certified instructors and includes five complimentary hours in our Flight Lab (instruction fees apply), as well as free attendance to any future private pilot course. Classes start on Saturday, Sept. 18, and run each Saturday for 12 weeks from 0800-1200. New students who pay by Sept. 18 will receive a 10% discount on ground school tuition ($423, regularly $470) and course materials ($134.95, regularly $169.95) as well as 10% off in the Pilot Shop for the duration of the class.
---
Calendar
Sept. 16: FAA medical exams (Janice Buenafe M.D.) (Willamette Aviation)
Sept. 18: 0800: Private Pilot Ground School: Start of Fall Session (Willamette Aviation)
Sept. 25: FAA medical exams (Janice Buenafe M.D.) (Willamette Aviation)
---
We are sending you this newsletter because you have requested it or you currently are registered to receive messages from our online scheduling system. You can remove your email address from our list by clicking here. If you would like to update your email address, please visit our Newsletter Subscription Page on our website.

Willamette Aviation Service, LLC
23115 Airport Road NE
Aurora, Oregon 97002

---