Join Us This Month for 'Aviation Career Day'!
Is a career as an airline pilot in your future? Do you know what it will take to get a job at an airline, or what to expect as your career progresses? Please join us this month as we host an Aviation Career Day, where we'll get a look at the future of airline hiring, as well as what kind of life you can expect as a professional pilot. Terry Tsubota, First Officer with American Airlines will discuss "How to Get Hired," with a look at qualifications, requirements, interviewing, and expectations. And Ian McDonough, Captain (Retired) with Alaska Airlines will cover "The Pilot Life," including career progression, pay and benefits, scheduling, and lifestyle.

We'll get started on Saturday, Oct. 23 at 1300 hours. The event is no charge, and we'll provide light refreshments. The presentation is designed for individuals considering or pursuing an airline career — seating is limited. Please contact our dispatch desk in person or by phone (503-678-2252) to RSVP before Monday, Oct. 18 so that we know how many plan to attend.
---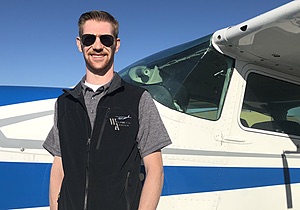 Short Finals…
· We're delighted to welcome Grant Feetham to our team of flight instructors at Willamette Aviation! Grant is a native Oregonian who grew up in the Willamette Valley and always was interested in airplanes, even though he never thought he would become a pilot. After high school, he earned an Associate's Degree in Emergency Medical Technology and a Paramedic License. Over the following decade, Grant took on various roles within the fire service, EMS, and the medical field. When he decided it was time for a change, he was encouraged to explore aviation by a family member who was a captain for a major U.S. airline. He completed his flight training in both Oregon and Colorado, and he currently is a CFII and MEI. "After my first flight lesson, in a Cessna 150, I was hooked," Grant says. "I enjoy helping others discover their love for aviation."

· We're delighted to have the Aurora State Tower on the field — not only for the greater margin of safety that the controllers provide, but also because LiveATC.net streams both tower and ground frequencies, so you can listen in with your web browser (or as a stream in an MP3 app). Don't forget — the tower isn't in operation 24 hours per day, so you won't hear anything after hours. But if you're at home, work, or even in the car and want to listen to airport traffic when the tower is active, click on this link to visit the LiveATC.net KUAO page.
---
Calendar
Oct. 21: FAA medical exams (Janice Buenafe M.D.) (Willamette Aviation)
Oct. 23: 1300: Aviation Career Day (Willamette Aviation)
Oct. 23: FAA medical exams (Janice Buenafe M.D.) (Willamette Aviation)
---
We are sending you this newsletter because you have requested it or you currently are registered to receive messages from our online scheduling system. You can remove your email address from our list by clicking here. If you would like to update your email address, please visit our Newsletter Subscription Page on our website.

Willamette Aviation Service, LLC
23115 Airport Road NE
Aurora, Oregon 97002

---