May 2022
Avoid Loss of Control at This Month's Safety Briefing!
We all know that stall-spins are most likely to happen in the traffic pattern, but did you know they can happen in all phases of flight? Do you feel confident you could recover from a stall and spin in your aircraft? And most importantly, are your stall avoidance skills good enough to keep you out of danger? At this month's Summer Safety Briefing, CFII Wei-En Tan will discuss Preventing Loss of Control Accidents. With more than 500 aerobatic and emergency-training hours logged, including thousands of spins, Tan is a highly experienced instructor. She also owns a Super Decathlon, which she flies in aerobatic competitions. Summer is almost here — don't miss this one!

This month's Safety Briefing gets underway on Saturday, May 28 at 1100 hrs in the Education Hangar at Willamette Aviation, and it's eligible for FAA Wings credit. We'll also host a Community Potluck BBQ at 12 noon, with plenty of burgers and dogs for everyone. Drop by to get a look at the airplanes on our ramp, and please bring chips, a dish, or a dessert to share if you can.
---
Skyhawk 8317G Is Better Than Ever!
We're happy to offer our customers one of the largest fleets of rental aircraft to be found anywhere in our flying region. Skyhawk N8317G has returned to our flight-line after the completion of several upgrades — not least of which being an Air Plains 172 XP 180-hp engine, providing a welcome power-boost to a popular airframe. Also new are dual Garmin G5 primary displays, a Garmin GTN 750 touchscreen flight navigator, and two USB charging ports to ensure your devices are always ready. Want more? This outstanding Cessna 172 now has a Short Takeoff and Landing (STOL) installation, including vortex generators and a droop leading edge.

We enjoy offering a range of Cessna aircraft for our customers, and 8317G is certain to become a popular choice as the summer weather arrives. If you'd like to get in the left seat, feel free to contact our dispatch desk or one of our flight instructors to arrange a check-out or familiarization flight.
---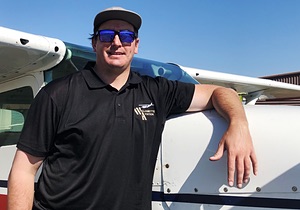 Short Finals…
· We are delighted to welcome Sam Ellis to our flight instruction team at Willamette Aviation! Sam has spent most of his life in the Portland area and loves to call this beautiful part of the country home. Growing up, he would build and fly model airplanes, which is where his passion for aviation began. Sam has always been drawn to exploration, so early in his career he decided to abandon working in an office and instead pursued aviation. In less than two years he completed all of his flight training, including Flight Instructor and Instrument Instructor. "From a young age I was always the person looking towards the sky every time I heard an airplane overhead," he says. "I love talking aviation and helping aspiring pilots achieve whatever goals they may be working toward."

· Our Private Pilot Ground School summer session gets underway this month — it's good value for student pilots, people who are getting ready to fly, and anyone who needs a refresher. The 40-hour, FAA-certified course is led by certified instructors and includes five complimentary hours in our Flight Lab (instruction fees apply), as well as free attendance to any future private pilot course. Classes start on Saturday, May 14, and run each Saturday for 12 weeks from 0800-1200. New students who pay by May 14 will receive a 10% discount on ground school tuition ($423, regularly $470) and course materials ($161.95, regularly $179.95) as well as 10% off in the Pilot Shop for the duration of the class.
---
Look for more from Willamette Aviation in the next newsletter. Until then, fly smart and safe!

David F. Waggoner
Willamette Aviation
dave@willametteair.com
(503) 678-2252
---
Calendar
May 14: 0800: Private Pilot Ground School: Start of Summer Session (Willamette Aviation)
May 19: FAA medical exams (Janice Buenafe M.D.) (Willamette Aviation)
May 28: FAA medical exams (Janice Buenafe M.D.) (Willamette Aviation)
May 28: 1100: Summer Safety Briefing: Avoiding Loss of Control (CFI Wei-En Tan) (Willamette Aviation)
May 28: 1200: Community Potluck BBQ (Willamette Aviation)
---
We are sending you this newsletter because you have requested it or you currently are registered to receive messages from our online scheduling system. You can remove your email address from our list by clicking here. If you would like to update your email address, please visit our Newsletter Subscription Page on our website.

Willamette Aviation Service, LLC
23115 Airport Road NE
Aurora, Oregon 97002

---