Review Airport Operations at This Month's Summer Safety Briefing!
The Aurora State Airport is a busy place, and this summer is no different than any other year. In addition to near-constant flight training operations, everything from small personal aircraft to helicopters and large corporate jets can be seen arriving and departing at all hours of the day. At this month's Summer Safety Briefing, Aurora State Tower Chief Raul Suarez will drop by to discuss Airport Operations, with a specific focus on lessons learned over the past 12 months by the Local Runway Safety Action Team (LRSAT). Runway incursions are always a high-priority safety topic, and we'll hear from the team on what we can do as pilots to keep these to an absolute minimum. We also expect to get tips on how pilots should interact with the tower for effective communication, and we'll be sure to take your questions as well. Don't miss this one!

This month's Safety Briefing gets underway on Saturday, June 25, and we'll kick off one hour earlier than our normal start-time, which will give everyone more time for questions. We'll start at 1000 hrs in the Education Hangar at Willamette Aviation, and the event is eligible for FAA Wings credit. We'll also host a Community Potluck BBQ at 12 noon, with plenty of burgers and dogs for everyone. Drop by to get a look at the airplanes on our ramp, and please bring chips, a dish, or a dessert to share if you can.
---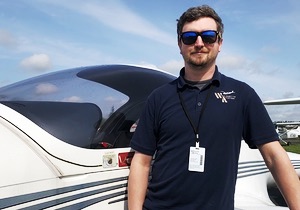 Short Finals…
· We're delighted to welcome Kevin Deccio to our flight instruction team at Willamette Aviation. Kevin was born and raised in Walla Walla, Washington, where he first discovered his love of aviation at a young age while flying with his uncle. It was several years after graduating high school that he decided to pursue a career in aviation. After acquiring his private pilot certificate in Spokane, he attended the University of North Dakota and graduated with a degree in commercial aviation. Kevin spent the next four years instructing in Walla Walla. As a kid, he often flew to the Oregon coast and Portland area with his uncle and family — which shaped his decision to continue flight instructing in the Pacific Northwest.

· Pilots, families, and friends using the Willamette Aviation ramp on the weekend of June 18-19 will want to be aware of an Oregon Disaster Airlift Response Team (DART) operation that will be underway. The "Whale Run 2022" exercise will involve general aviation aircraft moving 10,000 pounds of food from a supply depot in eastern Washington to three distribution hub airports in the Willamette Valley, including Aurora State. The training exercise is in preparation for a Cascadia Subduction Zone (CSZ) earthquake, which are severe but also very rare — the last CSZ quake was 322 years ago. In the event of disaster, Willamette Aviation's campus will act as a critical distribution point for resources, and we are proud to partner with DART in this effort. Please keep an eye open for additional activity on our ramp Saturday and Sunday, June 18-19.

· The arrival of summer means the beginning of our regional Airshow Season. The Olympic Airshow at the Olympia Regional Airport will take flight on June 18-19. Closer to home, the Cottage Grove Wings & Wheels show will welcome visitors on June 25-26. Both events are ideal opportunities to rent aircraft from Willamette Aviation — just be sure to check for Temporary Flight Restrictions if you are planning to fly to Olympia on an airshow day. Watch our upcoming newsletters for even more events on the summer airshow schedule!
---
Calendar
June 16: FAA medical exams (Janice Buenafe M.D.) (Willamette Aviation)
June 18-19: Olympic Airshow (Olympia Regional)
June 25: FAA medical exams (Janice Buenafe M.D.) (Willamette Aviation)
June 25: 1000: Summer Safety Briefing: Runway Safety Action Team (UAO Tower Chief Raul Suarez) (Willamette Aviation)
June 25: 1200: Community Potluck BBQ (Willamette Aviation)
June 25-26: Cottage Grove Wings & Wheels (Cottage Grove State)
---
We are sending you this newsletter because you have requested it or you currently are registered to receive messages from our online scheduling system. You can remove your email address from our list by clicking here. If you would like to update your email address, please visit our Newsletter Subscription Page on our website.

Willamette Aviation Service, LLC
23115 Airport Road NE
Aurora, Oregon 97002

---