Review Risk Management at This Month's Safety Briefing!
Flying is both challenging and occasionally thrilling. As pilots, we enjoy the rush we get from feeling the performance of our aircraft as it responds to our calculated, well-trained inputs. The flight environment is a busy place, and it's inherently risky. At this month's Summer Safety Briefing, Willamette Aviation CFI Tiara Lark will discuss Personal Risk Management, which is critical in all phases of flight. Tiara will examine how pilots can identify, assess, and mitigate Human Factors using simple but effective methods — which can be used to evaluate risks associated with the pilot, the passengers, the aircraft, the physical environment, and the nature of the flight itself.

This month's Safety Briefing gets underway on Saturday, July 23 at 1100 hrs in the Education Hangar at Willamette Aviation, and it's eligible for FAA Wings credit. We'll also host a Community Potluck BBQ at 12 noon, with plenty of burgers and dogs for everyone. Drop by to get a look at the airplanes on our ramp, and please bring chips, a dish, or a dessert to share if you can.
---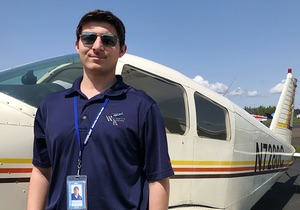 Short Finals…
· We are delighted to welcome Bransen Nelson to our team of flight instructors at Willamette Aviation! Bransen hails from Salt Lake City, Utah. He selected aviation as a path with the goal of starting a career in Air Traffic Control. In the meantime, he's worked as a lifeguard and also as a line service technician at a FBO at Salt Lake City International. It was there that he fell in love with private jets and general aviation. A number of ratings quickly followed, including CFI. "After my discovery flight, I wanted to be right back back in the air the moment we landed," Bransen says. "I love being a flight instructor because I can show people the joy of aviation and change how they look overhead forever."

· As summer continues and our flying ranges extend, it's important to remind folks that Temporary Flight Restrictions (TFRs) are serious business. Pilots should talk to briefers before all but the most routine flights, and it's not a bad idea to stay on top of things a day or two before you fly. The Flight Planning section at WillametteAir.com features several resources, including links to current NOTAM and TFR information. We recommend that pilots become familiar with the FAA's TFR Map (link), which offers a graphic representation of TFR dimensions in a given ARTCC or state. Whether it's a summer mountain fire or a VIP visit to PDX, you don't want to get caught in the air unaware.
---
Calendar
July 21: FAA medical exams (Janice Buenafe M.D.) (Willamette Aviation)
July 23: FAA medical exams (Janice Buenafe M.D.) (Willamette Aviation)
July 23: 1100: Summer Safety Briefing: Human Factors (CFI Tiara Lark) (Willamette Aviation)
July 23: 1200: Community Potluck BBQ (Willamette Aviation)
---
We are sending you this newsletter because you have requested it or you currently are registered to receive messages from our online scheduling system. You can remove your email address from our list by clicking here. If you would like to update your email address, please visit our Newsletter Subscription Page on our website.

Willamette Aviation Service, LLC
23115 Airport Road NE
Aurora, Oregon 97002

---