August 2022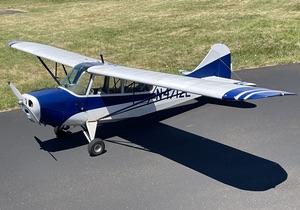 Aeronca Champ Joins Willamette Fleet!
We are excited to announce that we have added an Aeronca Champ, N4712E, to our rental fleet at Willamette Aviation! Our 1950 model marked the first year of the "7EC Traveler," which included a 90-hp engine. This Traveler has since been upgraded to 100-hp, giving it plenty of power to support the light airframe. The plane also has long-throw main gear with a Lower End Landing Gear Oleo Strut Assembly, which supports smother landings and better ground handling.

Inside the tandem-seat cockpit, the Traveler boats thicker, upgraded seat cushions, as well as additional interior insulation for noise reduction, and an improved heater and electrical system. The center of gravity has been adjusted to improve airspeed. N4712E has a standard 12-gallon main fuel tank and two in-wing 5.5-gallon auxiliary tanks for long cross-county flights.

Our new Aeronca Champ rents for $168 per hour. If you have a tailwheel endorsement and have been looking for a classic taildragger to fly, please contact us to schedule a check-out with one of our flight instructors. And if you don't have your tailwheel but have been thinking about getting one, we can arrange for a qualified instructor to meet with you, discuss the required training, and schedule your first flight!
---
Review Sensory Illusions at This Month's Safety Briefing!
Most of the time the information your senses provide you is reliable. However, in the flight environment these same senses can become untrustworthy. At this month's Summer Safety Briefing, Willamette Aviation CFI Jeff DeMeurers will review Sensory Illusions in Flight and how we can overcome them. No amount of flight training can eliminate illusions, which means our best defense is to know what to expect. Jeff will discuss visual and atmospheric illusions, which primarily affect our perception of the flight environment. This includes runway illusions and the black-hole approach. He'll also talk about vestibular illusions, including leans, inversion, Coriolis illusions, and the graveyard spiral. With proper awareness, well-trained pilots can learn to manage these scenarios and apply corrective steps.

This month's Safety Briefing gets underway on Saturday, Aug. 27 at 1100 hrs in the Education Hangar at Willamette Aviation, and it's eligible for FAA Wings credit. We'll also host a Community Potluck BBQ at 12 noon, with plenty of burgers and dogs for everyone. Drop by to get a look at the airplanes on our ramp, and please bring chips, a dish, or a dessert to share if you can.
---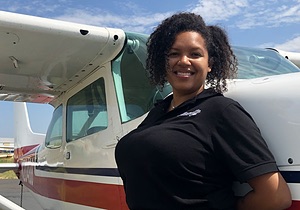 CFI Tiara Lark Joins Willamette Aviation!
We are delighted to welcome Tiara Lark to our team of flight instructors at Willamette Aviation! Tiara is a native Portlander who discovered aviation in her mid-twenties, not long after she finished college. Her first introduction to flying came from her college roommates, who were helicopter pilots. Tiara thought that becoming a pilot might be an unattainable goal, but after experiencing flight she decided to go for it. She got her Private Pilot in Olympia and then transitioned to the Sling Pilot Academy in California, where she flew low-wing LSAs for two years while working her way up to CFI. Tiara plans to fly private charters, with the longer goal of flying aerial fire attack. "I have a passion for people and community," she says. "My goal is not to just be a teacher, but also a mentor."
---
Look for more from Willamette Aviation in the next newsletter. Until then, fly smart and safe!

David F. Waggoner
Willamette Aviation
dave@willametteair.com
(503) 678-2252
---
Calendar
Aug. 18: FAA medical exams (Janice Buenafe M.D.) (Willamette Aviation)
Aug. 27: FAA medical exams (Janice Buenafe M.D.) (Willamette Aviation)
Aug. 27: 1100: Summer Safety Briefing: Sensory Illusions in Flight (CFI Jeff DeMeurers) (Willamette Aviation)
Aug. 27: 1200: Community Potluck BBQ (Willamette Aviation)
---
We are sending you this newsletter because you have requested it or you currently are registered to receive messages from our online scheduling system. You can remove your email address from our list by clicking here. If you would like to update your email address, please visit our Newsletter Subscription Page on our website.

Willamette Aviation Service, LLC
23115 Airport Road NE
Aurora, Oregon 97002

---