"Ask the Examiner" at This Month's Safety Briefing!
Active pilots can expect to pursue additional certificates and ratings as they build hours and continue to explore aviation, whether it's for fun or profit. And that means they can expect to meet with an FAA Designated Pilot Examiner (DPE) from time to time — expert pilots who are approved by the FAA to administer flight tests and grant greater privileges to those who demonstrate proficiency. At this month's Summer Safety Briefing, we're pleased to welcome DPE Jason Robinson, a veteran pilot who has signed off many in our pilot community to higher flight levels. Are you planning to take a checkride in the next year or two? Or do you want to know how your last checkride could have gone a bit smoother? Drop by this month's event, and bring plenty of questions!

This month's Safety Briefing gets underway on Saturday, Sept. 17 at 1100 hrs in the Education Hangar at Willamette Aviation, and it's eligible for FAA Wings credit. We'll also host a Community Potluck BBQ at 12 noon, with plenty of burgers and dogs for everyone. Drop by to get a look at the airplanes on our ramp, and please bring chips, a dish, or a dessert to share if you can.
---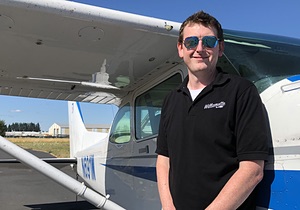 Short Finals…
· We're delighted to welcome Jeff DeMeurers to our team of flight instructors at Willamette Aviation! Jeff has loved airplanes and aviation for as long as he can remember. He grew up in Southern California, and it was while attending air shows at Edwards Air Force Base that he knew he was going to be a pilot. After moving to Oregon, Jeff earned his private certificate in 2015. The pandemic provided him a silver lining, as he decided to work full-time on additional ratings, earning his Instrument, Commercial and CFI in just one year. "I am incredibly fortunate," Jeff says. "I get to guide other aspiring pilots, and I can share the knowledge and experience I have accumulated throughout my journey."

· Our friends at Horizon Air will be visiting our campus this month to host a Pilot Development Program event. If you plan to make aviation a career and you're on the fast track, drop by to meet with Horizon's pilots and learn how their development program paves the way to Horizon Air. Horizon also offers the fastest path to mainline flying at Alaska Airlines, and financial incentives are included. Drop by our Education Hangar on Monday, Sept. 12 at 1300 hours. After the presentation, Horizon's team will be conducting interviews (slots are limited). Find out more at https://bit.ly/horizonairpdp.

· Our Private Pilot Ground School fall session gets underway this month — it's good value for student pilots, people who are getting ready to fly, and anyone who needs a refresher. The 40-hour, FAA-certified course is led by certified instructors and includes five complimentary hours in our Flight Lab (instruction fees apply), as well as free attendance to any future private pilot course. Classes start on Saturday, Sept. 17, and run each Saturday for 12 weeks from 0800-1200. Tuition for the session is $495, while course materials are $179.95.
---
Calendar
Sept. 12: 1300: Horizon Air Pilot Development Program (Willamette Aviation)
Sept. 15: FAA medical exams (Janice Buenafe M.D.) (Willamette Aviation)
Sept. 17: 0800: Private Pilot Ground School: Start of Fall Session (Willamette Aviation)
Sept. 17: 1100: Summer Safety Briefing: Ask the Designated Pilot Examiner (DPE Jason Robinson) (Willamette Aviation)
Sept. 17: 1200: Community Potluck BBQ (Willamette Aviation)
Sept. 24: FAA medical exams (Janice Buenafe M.D.) (Willamette Aviation)
---
We are sending you this newsletter because you have requested it or you currently are registered to receive messages from our online scheduling system. You can remove your email address from our list by clicking here. If you would like to update your email address, please visit our Newsletter Subscription Page on our website.

Willamette Aviation Service, LLC
23115 Airport Road NE
Aurora, Oregon 97002

---