Review Airport Surface Operations at This Month's Second Saturday!
As pilots, we seek new ratings and review our skills to be proficient in the air. However, safety begins before the takeoff clearance — ground operations should not be overlooked. At this month's Second Saturday Seminar, FAA Safety Team Operations Program Manager Joe Mollahan will review Airport Surface Operations and why they are a critical area of risk management. In addition to reviewing airport signs and markings, Joe will discuss taxi operations and surface pilot deviations. He also will offer a look at vehicle/pedestrian deviations, which have increased at the Aurora State Airport, and what we all should know to help eliminate unwanted intrusions in the movement area.

This month's Second Saturday gets underway on Oct. 8 at 1100 in the Education Hangar at Willamette Aviation. The event is certified for FAA Wings credit and there is no charge — drop by or sign up on the Wings website to save your spot. We'll see you there!
---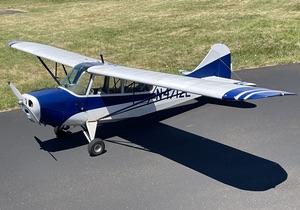 Short Finals…
· We're delighted that we've been able to add a taildragger to our rental fleet this year. Our Aeronca Champ, N4712E, boasts several upgrades, an enhanced interior, and extended-range fuel capacity. After testing it out this summer, it's now available for training flights, as well as rentals to qualified customers. Our instructors have developed a Tailwheel Qualification Course so that certified pilots can add a tailwheel endorsement to their certificate. Even better, the course is designed to improve the pilot's overall aviation skills. Our new Aeronca Champ rents for $168 per hour — please contact us to start your training with one of our flight instructors.

· As we get ready for fall and winter weather, it's a good time to note that our full-motion Redbird FMX is never grounded by low ceilings. This fully enclosed simulator package is equipped with an innovative, three-axis, electric motion platform that provides effective motion feedback for yaw, pitch, and roll. Both analog and glass cockpits are available in the immersive, wrap-around experience. And the FAA has approved the FMX as an Advanced Aviation Training Device (AATD), so it's loggable for pilots who are pursuing an instrument rating, as well as rated pilots who would like to retain currency or complete an instrument proficiency check. Private Pilot students also can log 2.5 hours in the Redbird, which will be credited toward the total hours required for their checkride. Feel free to contact one of our flight instructors or our dispatch desk to schedule a flight in the Redbird FMX!
---
Calendar
Oct. 8: 1100: Second Saturday Seminar: Airport Surface Operations (FAA Safety Team) (Willamette Aviation)
Oct. 20: FAA medical exams (Janice Buenafe M.D.) (Willamette Aviation)
Oct. 22: FAA medical exams (Janice Buenafe M.D.) (Willamette Aviation)
---
We are sending you this newsletter because you have requested it or you currently are registered to receive messages from our online scheduling system. You can remove your email address from our list by clicking here. If you would like to update your email address, please visit our Newsletter Subscription Page on our website.

Willamette Aviation Service, LLC
23115 Airport Road NE
Aurora, Oregon 97002

---