Stories and Lessons Learned at This Month's Second Saturday!
We are delighted to welcome Designated Pilot Examiner Mary Schu to this month's Second Saturday Seminar, where she will share Stories and Lessons Learned from nearly five decades of flight experience. Mary has logged more than 20,000 hours, the majority of it as a flight instructor. She also conducts Flight Instructor Refresher Courses (FIRC) and was named the 2015 National Certificated Flight Instructor of the Year. At this month's event Mary will discuss her various aviation experiences, including owning and operating a flight school, working as a contract pilot for various companies, and acting as an examiner for checkrides from Private Pilot through CFI.

This month's Second Saturday gets underway on Nov. 12 at 1100 in the Education Hangar at Willamette Aviation. The event is certified for FAA Wings credit and there is no charge — drop by or sign up on the Wings website to save your spot. After the event, everyone is welcome to stick around for our first Apple Pie Social. We'll be serving hot apple pie and other treats. We'll see you there!
---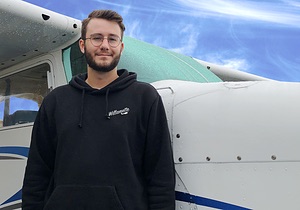 Short Finals…
· We are pleased to announce that Caiden Reid has joined our team of flight instructors at Willamette Aviation! Caiden's college career took a detour during the pandemic, when all of his classes went online. It was at that time that he decided he wanted to do something more hands-on with his life, so he decided to become a pilot. He started flight training in Tucson, Ariz., and received his CFI and MEI certifications less than a year after his first flight lesson. He also gained valuable cross-country experience in the American Southwest, logging many hours over Arizona, Texas, New Mexico, and California. Caiden grew up in Portland and has a deep appreciation of our state's natural resources. He enjoys fishing and snowboarding, and he even took up surfing when he attended the University of Hawaii. "I am excited to teach people of all ages about one of my biggest passions," he says. "It wasn't long after I started flying that I knew I wanted to make this a career."

· Night operations are well underway here at Willamette Aviation. Clear days in fall and winter make for the best flying, and with the days getting even shorter during November and December, it's an excellent time to build some night experience with a CFI. Pilots log "night" hours based on operations between evening and morning civil twilight (FAR 1.1), but remember — in order to carry passengers you must meet the requirements of "passenger night" — three full-stop takeoffs and landings between one hour after sunset and one hour before sunrise, within the previous 90 days, or passengers are prohibited from flying with you during this same definition of night (FAR 61.57b). And don't forget a third "night rule" — position lights must be on between sunset and sunrise. Ready for a brush-up? Let us know if you'd like to get on the night schedule.
---
Calendar
Nov. 12: 1100: Second Saturday Seminar: Stories and Lessons Learned (Mary Schu) (Willamette Aviation)
Nov. 12: 1200: Apple Pie Social (Willamette Aviation)
Nov. 17: FAA medical exams (Janice Buenafe M.D.) (Willamette Aviation)
Nov. 24: Thanksgiving Day: Office Closed
---
We are sending you this newsletter because you have requested it or you currently are registered to receive messages from our online scheduling system. You can remove your email address from our list by clicking here. If you would like to update your email address, please visit our Newsletter Subscription Page on our website.

Willamette Aviation Service, LLC
23115 Airport Road NE
Aurora, Oregon 97002

---