Review Local Weather at This Month's Second Saturday!
Pacific Northwest pilots are familiar with our seasonal weather patterns — hot, dry summers that are followed by a parade of storm fronts during the winter months, and then a spring flying season with a mix of VFR and rainy days. At this month's Second Saturday Seminar, National Weather Service Meteorologist Rebecca Muessle will drop by to discuss Pacific Northwest Weather. Rebecca holds degrees from Portland State University and the University of North Dakota, and she was a forecaster with the NWS in Anchorage, Alaska for two years before returning to Oregon. At this month's event she will discuss weather patterns in our flying region, and specifically how local pilots can use forecasts for effective flight planning. There are plenty of flying months between now and summer, so don't miss this one!

This month's Second Saturday gets underway on Dec. 10 at 1100 in the Education Hangar at Willamette Aviation. The event is certified for FAA Wings credit and there is no charge — drop by or sign up on the Wings website to save your spot. After the event, everyone is welcome to stick around for this month's Apple Pie Social. We'll be serving hot apple pie and other treats. We'll see you there!
---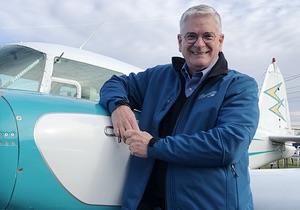 Short Finals…
· We are delighted to welcome Bob Wood to our team of flight instructors at Willamette Aviation! Bob's life has followed three distinct paths: flying, teaching, and acting. He became a Private Pilot in Seattle on his 17th birthday. He then obtained an Associate Degree in Air Traffic Control in 1971 and accepted a position as Flight Attendant with United Airlines in 1972. United taught him how to instruct, so he combined flying and teaching as a Flight Attendant Instructor. Having been "discovered" making announcements on a flight to LAX, Bob began an acting career. He auditioned in Hollywood, and he's honored to have portrayed Capt. Jason Dahl, the Captain of UA92, in the 2005 docudrama The Flight that Fought Back. Refocused on flying, Bob received his CFI certificate in 2007. He also holds Instrument and Multi-Engine instructor ratings, as well as an Airline Transport Pilot (ATP) certificate, and he became a Certified Cirrus Training Instructor in 2015. Please be sure to introduce yourself the next time you see Bob on our campus!

· Not sure what would make the perfect holiday gift for a pilot you know, or for somebody who is ready to learn how to fly? A gift certificate from Willamette Aviation is perfect for any occasion. Just drop by our online gift certificate page, where you can select one of several Discovery Flight options (such as a flight over downtown Portland), ground school tuition, a customized flight lesson, or even a Pilot Shop spree. Add the certificate to your cart, print it out, and your aviation holiday shopping is done!

· We hope you enjoy this year's holiday season with family and friends. We will be closed Christmas Day — let us know beforehand if you would like to schedule a plane for a scenic holiday flight. We are planning an exciting 2023, with even more seminars, ground schools, BBQs, apple pie socials, and special events, and we'll be welcoming plenty of first solos and new certificated pilots along the way. We're looking forward to seeing you here as well.
---
Calendar
Dec. 10: 1100: Second Saturday Seminar: Pacific Northwest Weather (Rebecca Muessle) (Willamette Aviation)
Dec. 10: 1200: Apple Pie Social (Willamette Aviation)
Dec. 10: FAA medical exams (Janice Buenafe M.D.) (Willamette Aviation)
Dec. 25: Christmas Day: Office Closed
---
We are sending you this newsletter because you have requested it or you currently are registered to receive messages from our online scheduling system. You can remove your email address from our list by clicking here. If you would like to update your email address, please visit our Newsletter Subscription Page on our website.

Willamette Aviation Service, LLC
23115 Airport Road NE
Aurora, Oregon 97002

---