YouTube Year in Review at This Month's Second Saturday!
At this month's Second Saturday, we'll be presenting our annual YouTube Year in Review! There's no lack of aviation videos to be found on the Internet — everything from amazing aerobatic displays to the occasional skids, bumps, and gear-up landings. And while we often find ourselves amused and entertained by the skill (or folly) of others, there also is a lot to learn from what we find online. We've collected some of our favorite YouTube clips for discussion — drop by this month's seminar to see everything we've selected, along with a few tips that should improve your flying skills.

This month's Second Saturday gets underway on Jan. 14 at 1100 in the Education Hangar at Willamette Aviation. The event is certified for FAA Wings credit and there is no charge — drop by or sign up on the Wings website to save your spot. After the event, everyone is welcome to stick around for this month's Apple Pie Social. We'll be serving hot apple pie and other treats. We'll see you there!
---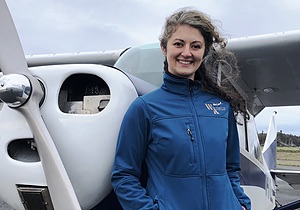 Short Finals…
· We're delighted to welcome Catheline Leoni back to Willamette Aviation! Catheline began her CFI career at Willamette and, after a three-year excursion flying cargo in DC-3s in Alaska, she has returned to share the joys of tailwheel flying. Catheline's passion for DC-3s dates back to 2012, when she helped recreate a 1936 flight by legendary aviator Jean Batten from England to New Zealand in a fully restored 1942 DC-3. Catheline initially learned to fly in Ireland. After the DC-3 trip to New Zealand, she built time in a Piper Cub on grass strips throughout France. But fixed-wing aircraft weren't enough, so she joined the French military to fly helicopters, earning a commercial rotor-wing certificate in Europe along the way. Currently, aside from instructing in the tailwheel Champ at Willamette Aviation, Catheline is in training to fly the Boeing 767 for Atlas Air. If you're planning to log some tailwheel time or get your endorsement, please contact our dispatch desk or introduce yourself to Catheline when you see her on our campus.

· Our Private Pilot Ground School winter session gets underway this month — it's good value for student pilots, people who are getting ready to fly, and anyone who needs a refresher. The 40-hour, FAA-certified course is led by certified instructors and includes five complimentary hours in our Flight Lab (instruction fees apply), as well as free attendance to any future private pilot course. Classes start on Saturday, Jan. 21, and run each Saturday for 12 weeks from 0800-1200. Tuition for the session is $495, while course materials are $179.95.
---
Calendar
Jan. 14: 1100: Second Saturday Seminar: YouTube Year in Review (Willamette Aviation)
Jan. 14: 1200: Apple Pie Social (Willamette Aviation)
Jan. 19: FAA medical exams (Janice Buenafe M.D.) (Willamette Aviation)
Jan. 21: 0800: Private Pilot Ground School: Start of Winter Session (Willamette Aviation)
Jan. 28: FAA medical exams (Janice Buenafe M.D.) (Willamette Aviation)
---
We are sending you this newsletter because you have requested it or you currently are registered to receive messages from our online scheduling system. You can remove your email address from our list by clicking here. If you would like to update your email address, please visit our Newsletter Subscription Page on our website.

Willamette Aviation Service, LLC
23115 Airport Road NE
Aurora, Oregon 97002

---