Wright Brothers Master Pilot Award at This Month's Second Saturday!
At this month's Second Saturday Seminar, Willamette Aviation CFI Ian McDonough will be awarded the FAA's Wright Brothers Master Pilot Award. Decades ago, when Ian was a brand new Boeing 727 First Officer, a crusty old Captain told him, "Your job, son, is to keep me out of the trees, the newspapers, and the Chief Pilot's office." Following the award ceremony, Ian — a former Naval Aviator, missionary bush pilot, airline pilot, and current CFI — will share the strategies that allowed him to fulfill that old captain's request. "How to Fly Fifty Years Without Bending Aluminum…" practical advice with a humorous twist.

This month's Second Saturday gets underway on Feb. 11 at 1100 in the Education Hangar at Willamette Aviation. The event is certified for FAA Wings credit and there is no charge — drop by or sign up on the Wings website to save your spot. After the event, everyone is welcome to stick around for this month's Apple Pie Social. We'll be serving hot apple pie and other treats. We'll see you there!
---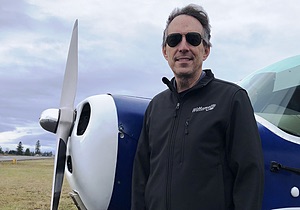 Short Finals…
· We're happy to announce that Brian Musson has joined our team of flight instructors at Willamette Aviation! Brian has been in love with flying for as long as he can remember. His childhood bedroom was a testament to the marketing team at NASA. Glider lessons in a Schweizer 2-33 provided the first entry to the thrill of flying an airplane solo. During college, a local flying club with a Cessna 152 and 172 was barely affordable, and he earned both his private pilot certificate and instrument rating. Brian kept aviation as a hobby while building a career as an engineer. He owned a Cessna 182 for many years, has shared ownership of a 172 and a Piper Cub, built an experimental aircraft (Van's RV-6A), and helped others build a kitfox and more RVs. His family tree includes many teachers, and Brian picked up the joy of teaching from them. He currently instructs in Willamette's twin engine Apache and the tailwheel Champ. Feel free to let us know if you'd like to log some time with Brian!

· If you haven't logged hours in our full-motion Redbird FMX, it's the perfect time of year to get started! This fully enclosed simulator package comes equipped with an innovative, three-axis, electric motion platform that provides effective motion feedback for yaw, pitch, and roll. Both analog and glass cockpits are available in the immersive, wrap-around experience. And the FAA has approved the FMX as an Advanced Aviation Training Device (AATD), so it's loggable for pilots who are pursuing an instrument rating, as well as rated pilots who would like to retain currency or complete an instrument proficiency check. Private Pilot students also can apply up to 2.5 hours of AATD time toward the logged hours required for a checkride. Feel free to contact one of our flight instructors or our dispatch desk to schedule a flight in the Redbird FMX!
---
Calendar
Feb. 11: 1100: Second Saturday Seminar: Wright Brothers Master Pilot Award (CFI Ian McDonough) (Willamette Aviation)
Feb. 11: 1200: Apple Pie Social (Willamette Aviation)
Feb. 16: FAA medical exams (Janice Buenafe M.D.) (Willamette Aviation)
Feb. 25: FAA medical exams (Janice Buenafe M.D.) (Willamette Aviation)
Feb. 25-26: 2023 Northwest Aviation Conference & Trade Show (Puyallup)
---
We are sending you this newsletter because you have requested it or you currently are registered to receive messages from our online scheduling system. You can remove your email address from our list by clicking here. If you would like to update your email address, please visit our Newsletter Subscription Page on our website.

Willamette Aviation Service, LLC
23115 Airport Road NE
Aurora, Oregon 97002

---