Review Continuation Bias Scenarios at our Summer Safety Briefing!
"Plan Continuation Bias" is a form of Confirmation Bias that favors pressing on with a plan even though information that indicates the plan should be modified or abandoned is readily available. Pilots can be susceptible to this type of bias, especially if they are working with time-commitments or trying to please passengers — sometimes with catastrophic results. At this month's Summer Safety Briefing, Tim Sisk will review Plan Continuation Bias, with an emphasis on how pilots can recognize the risks and leverage strategies to stay out of trouble. Tim is a Principal Operations Inspector at the Portland FSDO, as well as a flight instructor, fixed-wing pilot, and helicopter pilot. He will examine and discuss different scenarios so that we can have a better understanding of this potentially dangerous bias as it applies to Aeronautical Decision-Making.

This month's Safety Briefing gets underway on Saturday, May 27 at 1100 hrs in the Education Hangar at Willamette Aviation, and it's eligible for FAA Wings credit. We'll also host a Community Potluck BBQ at 12 noon, with plenty of burgers and dogs for everyone. Drop by to get a look at the airplanes on our ramp, and please bring chips, a dish, or a dessert to share if you can.
---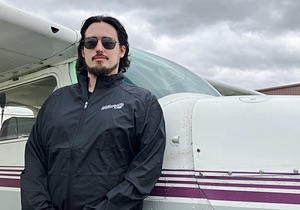 Short Finals…
· We are delighted to welcome Matthew Mikesh to our team of flight instructors at Willamette Aviation! Matthew was born and raised in the Portland area, and he first got a feel for airplanes when he was 10 years old and his dad showed him a few basic maneuvers in an ultralight. He credits his father as his inspiration to pursue aviation. Matthew served in the U.S. Air Force, doing operations intelligence for F-22 aircraft at Holloman AFB. He also worked directly with F-22 pilots and spent several weeks training in Air Force simulators. After he left the Air Force, Matthew enrolled in college and studied finance, but the pull of aviation proved difficult to overcome. He earned his multi-engine rating in Hillsboro, and then his CFI/CFII in Bend. "I'm excited to be back the air," Matthew says. "I'm also looking forward to working with others to help them achieve their aviation goals."

· Our Private Pilot Ground School spring session gets underway this month — it's good value for student pilots, people who are getting ready to fly, and anyone who needs a refresher. The 40-hour, FAA-certified course is led by certified instructors and includes five complimentary hours in our Flight Lab (instruction fees apply), as well as free attendance to any future private pilot course. Classes start on Saturday, May 20, and run each Saturday for 12 weeks from 0800-1200. Tuition for the session is $549, while course materials are $195.95.
---
Calendar
May 18: FAA medical exams (Janice Buenafe M.D.) (Willamette Aviation)
May 20: 0800: Private Pilot Ground School: Start of Spring Session (Willamette Aviation)
May 27: FAA medical exams (Janice Buenafe M.D.) (Willamette Aviation)
May 27: 1100: Summer Safety Briefing: Plan Continuation Bias (Tim Sisk) (Willamette Aviation)
May 27: 1200: Community Potluck BBQ (Willamette Aviation)
---
We are sending you this newsletter because you have requested it or you currently are registered to receive messages from our online scheduling system. You can remove your email address from our list by clicking here. If you would like to update your email address, please visit our Newsletter Subscription Page on our website.

Willamette Aviation Service, LLC
23115 Airport Road NE
Aurora, Oregon 97002

---