Plan a Flight to the San Juans at This Month's Safety Briefing!
If you're planning to fly solo or take passengers to a distant airport this summer, it may be time to brush up on your flight planning as well. At this month's Summer Safety Briefing, Willamette Aviation CFI Matthew Mikesh will offer a look at VFR Cross Country Flying. As most pilots know, it's not terribly challenging to fly from point-to-point while following an electronic line on a GPS or Foreflight. But what if the unit fails, the battery dies, or you are unexpectedly diverted? Matthew will use a cross-country flight from Aurora to the San Juan Islands as the basis for a comprehensive overview of flying long distances in VFR conditions, from the earliest planning stages to the unexpected events that can happen along the way.

This month's Safety Briefing gets underway on Saturday, June 24 at 1100 hrs in the Education Hangar at Willamette Aviation, and it's eligible for FAA Wings credit. We'll also host a Community Potluck BBQ at 12 noon, with plenty of burgers and dogs for everyone. Drop by to get a look at the airplanes on our ramp, and please bring chips, a dish, or a dessert to share if you can.
---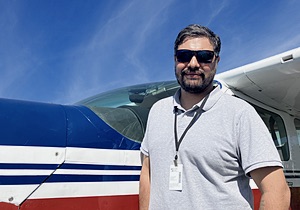 Short Finals…
· We are delighted to welcome Luis Lemus to our team of flight instructors at Willamette Aviation. Luis was born in Mexico and raised in Southern California. He and his wife moved to Portland (her hometown), where they are raising their young son. Along with aviation, Luis' other great passion is fishing — and in fact, he decided to pursue aviation so that he would have the freedom to travel to different fishing spots and explore new areas. Luis previously worked as a flight instructor in Florida, where he shared his love of aviation with others and helped aspiring pilots improve their skills. "Throughout my life," Luis says, "I've been driven by a sense of adventure and a desire to explore the world around me. Whether it's reeling in a big catch out on the open water, or flying through the skies, I'm always seeking out new experiences and pushing myself to new heights."

· All pilots should be familiar with the FAA's Aviation Safety Reporting Program (ASRP), and those who are building hours, planning long-distance flights, or expanding their skills should review the program's details annually. While some pilots might describe the ASRP as a "Get Out of Jail Free Card," it's actually designed to improve reporting on discrepancies and deficiencies in aviation safety. The FAA determined that ASRP effectiveness would be greatly enhanced if NASA managed the information, which is why it's often referred to as a "NASA form." If you are involved in any aviation incident that you think may require FAA enforcement action — or if you identify any deficiencies in the National Airspace System — as a pilot you should be aware of the ASRP and how it benefits everyone, including you. For more information, visit the Advisory Circular page. Local Flight Instructor Philip Mandel also has created a helpful YouTube video covering the program's details.
---
Calendar
June 15: FAA medical exams (Janice Buenafe M.D.) (Willamette Aviation)
June 24: FAA medical exams (Janice Buenafe M.D.) (Willamette Aviation)
June 24: 1100: Summer Safety Briefing: San Juans Cross Country (CFI Matthew Mikesh) (Willamette Aviation)
June 24: 1200: Community Potluck BBQ (Willamette Aviation)
---
We are sending you this newsletter because you have requested it or you currently are registered to receive messages from our online scheduling system. You can remove your email address from our list by clicking here. If you would like to update your email address, please visit our Newsletter Subscription Page on our website.

Willamette Aviation Service, LLC
23115 Airport Road NE
Aurora, Oregon 97002

---