Learn About Flying in Alaska at This Month's Pilots Workshop!
Alaska is known as the wild west of aviation — rapidly changing weather, deceptive light conditions, and sometimes-questionable Aviation Decision Making (ADM) all contribute to a challenging flight environment. At this month's Pilots Workshop, CFI Jason Robinson will share his stories, observations and lessons learned flying in Alaska. Jason is a Designated Pilot Examiner (DPE) and holds an ATP certificate. However, he first learned to fly from short-field grass airports. In Alaska, he built valuable experience with various flying services. He'll discuss the numerous challenges that wilderness flying presents, as well as specific aviation strategies. If you've ever thought about back-country flying, don't miss this one!

This month's Pilots Workshop gets underway on Saturday, Aug. 26 at 1100 hrs in the Education Hangar at Willamette Aviation, and it's eligible for FAA Wings credit. We'll also host a Community Potluck BBQ at 12 noon, with plenty of burgers and dogs for everyone. Drop by to get a look at the airplanes on our ramp, and please bring chips, a dish, or a dessert to share if you can.
---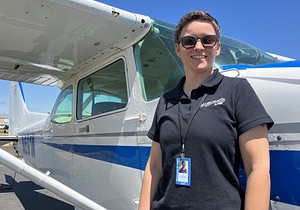 Short Finals…
· We're delighted to have Ash Mussman join our team of flight instructors at Willamette Aviation! From a very young age, Ash was looking up at the sky, fascinated with airplanes and flight. In 2000, she began flying in Prescott, Arizona, but quickly hit financial roadblocks that forced her to make the difficult decision to discontinue training. After twenty years of thinking about what could have been, she decided to return to the sky, earning her Private, Instrument, Commercial, and CFI ratings all with Willamette Aviation. "Never give up on your dreams," Ash says. "Helping individuals succeed in reaching their aviation goals is the greatest gift I can offer as a Flight Instructor. Witnessing the joy of aviation on a student's face is the greatest gift they can offer to me."

· The FAA recently updated their Advisory Circular on Non-Towered Airport Flight Operations. AC 90-66C replaces the prior version. While not regulatory in nature, Advisory Circulars provide guidance to pilots. Notably, 90-66C now emphasizes that "to mitigate the risk of a midair collision at a non-towered airport in other than instrument conditions, the FAA does not recommend that the pilot execute a straight-in approach for landing, when there are other aircraft in the traffic pattern." This new guidance is in response to recent mid-air collisions at non-towered fields. For more information, visit the AOPA website. To download the PDF, visit the FAA website.
---
Calendar
Aug. 17: FAA medical exams (Janice Buenafe M.D.) (Willamette Aviation)
Aug. 19: FAA medical exams (Janice Buenafe M.D.) (Willamette Aviation)
Aug. 26: 1100: Pilots Workshop: Flying in Alaska (ATP Jason Robinson) (Willamette Aviation)
Aug. 26: 1200: Community Potluck BBQ (Willamette Aviation)
---
We are sending you this newsletter because you have requested it or you currently are registered to receive messages from our online scheduling system. You can remove your email address from our list by clicking here. If you would like to update your email address, please visit our Newsletter Subscription Page on our website.

Willamette Aviation Service, LLC
23115 Airport Road NE
Aurora, Oregon 97002

---