Review Your Decision-Making Skills at This Month's Pilots Workshop!
It's tempting to think that detailed flight planning is the best way to mitigate risk, but even the best plans don't always expect the unexpected. Aeronautical Decision Making is the mental process that pilots must use in order to take the best course of action during a flight, particularly when circumstances change. At this month's Pilots Workshop, Willamette Aviation CFI James Neils will offer a look at "When ADM Goes Wrong," and what outcomes pilots might expect when decision-making is faulty, or even entirely absent. James will present a handful of case-studies and get feedback from attendees, who also may have their own ADM stories to share as well. We're hoping to see you there!

This month's Pilots Workshop gets underway on Saturday, Sept. 23 at 1100 hrs in the Education Hangar at Willamette Aviation, and it's eligible for FAA Wings credit. We'll also host a Community Potluck BBQ at 12 noon, with plenty of burgers and dogs for everyone. Drop by to get a look at the airplanes on our ramp, and please bring chips, a dish, or a dessert to share if you can.
---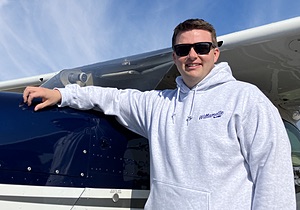 Short Finals…
· We're pleased to announce that James Neils has joined our flight instruction team at Willamette Aviation! James was born in The Dalles and grew up in White Salmon, Wash. He went on his first airline flight when he was eight years old, which included a brief visit the flight deck. From that moment on, James knew that he wanted to be a pilot. After finishing high school he started his flight training in Troutdale, but he soon put his training on pause so that he could focus on college. James returned to flight training in 2019, this time at Hillsboro. During this time he also met his wife and relocated to Salem. James earned his initial CFI Certificate at Willamette Aviation, and he's delighted to join the team. "Flying is my passion," he says. "I'm here to encourage future aviators to achieve their flying goals."

· Our Private Pilot Ground School fall session gets underway this month — it's good value for student pilots, people who are getting ready to fly, and anyone who needs a refresher. The 40-hour, FAA-certified course is led by certified instructors and it includes free attendance to any future private pilot course. Classes start on Saturday, Sept. 23, and run each Saturday for 12 weeks from 0800-1200. Tuition for the session is $549, while course materials are $195.95. Please contact us for more information or to sign up.
---
Calendar
Sept. 14: FAA medical exams (Janice Buenafe M.D.) (Willamette Aviation)
Sept. 23: 0800: Private Pilot Ground School: Start of Fall Session (Willamette Aviation)
Sept. 23: FAA medical exams (Janice Buenafe M.D.) (Willamette Aviation)
Sept. 23: 1100: Pilots Workshop: When ADM Goes Wrong (CFI James Neils) (Willamette Aviation)
Sept. 23: 1200: Community Potluck BBQ (Willamette Aviation)
---
We are sending you this newsletter because you have requested it or you currently are registered to receive messages from our online scheduling system. You can remove your email address from our list by clicking here. If you would like to update your email address, please visit our Newsletter Subscription Page on our website.

Willamette Aviation Service, LLC
23115 Airport Road NE
Aurora, Oregon 97002

---