Willamette Aviation Updates COVID-19 Protocols
We at Willamette Aviation are closely following events surrounding the outbreak of Coronavirus Disease 2019 (COVID-19), along with others in the aviation community and people around the world. In our more than two decades of operation, our highest priority has always been the health and safety of our aviation community.

With the rollout of vaccinations over the past three months, and the issuance of CDC guidance, our COVID-19 protocols will adjust, starting on April 2, 2021.

· Fully vaccinated individuals are permitted to congregate with other fully vaccinated individuals in airplanes, flight simulators, classrooms, and briefing rooms without wearing masks or physical distancing.

· A fully vaccinated person is permitted to congregate in airplanes, flight simulators, classrooms, and briefing rooms with one unvaccinated person who is at low risk for severe COVID-19 disease, without wearing masks or physical distancing. If more than one unvaccinated person is present, all unvaccinated persons must be from the same household and at low risk.

· Customers will not be required to provide a proof of vaccination at the dispatch desk. However, we have empowered our flight instructors to request proof of vaccination before contact without masks. Please bring your vaccination card if your instructor requests to see it. Without proof of vaccination, any flight instructor can require masks during flight and ground operations.

While we are pleased to announce this loosening of restrictions, many rules will remain in place until we receive additional guidance. We also continue to practice extreme vigilance with all health symptoms. Click here to read our complete Covid-19 statement.

We strongly recommend that members of our flight community become vaccinated against COVID-19. Please refer to this page on the CDC website for more information on our updated protocols.

We want to thank our flight community for their cooperation over this past year. Because of everyone's participation, we have been able to continue flight training and ground schools without any reported transmission of coronavirus on our campus.
---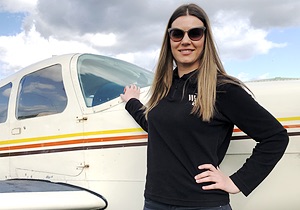 Short Finals…
· We are delighted to welcome Nevena Starcevic to our team of flight instructors at Willamette Aviation! Nevena lived in Serbia for most of her life, moving to the United States a few years ago. Her first stop was Alaska, where she took a discovery flight and fell in love with aviation. She rapidly progressed through flight training, earning her Certified Flight Instructor certificate just one year after her first lesson. During her training, Nevena enjoyed bush flying and exploring the Alaskan wilderness. She moved to Oregon in 2021 and looks forward to teaching people how to fly. "Helping students achieve their potential in aviation offers the greatest challenge to the instructor," Nevena says, "as well as the greatest reward."

· "Each pilot in command shall, before beginning a flight, become familiar with all available information concerning that flight." This statement, from CFR 91.103, is the foundation of all preflight activity. The FAA recently released a new Advisory Circular, "A Pilot's Guide to Preflight Briefing" (AC 91-92), which provides a roadmap for planning, weather, and risk mitigation. The circular also highlights general operating practices, with a look at different types of briefings, sample checklists, and links to online resources. To view or download the PDF file, click here.
---
We are sending you this newsletter because you have requested it or you currently are registered to receive messages from our online scheduling system. You can remove your email address from our list by clicking here. If you would like to update your email address, please visit our Newsletter Subscription Page on our website.

Willamette Aviation Service, LLC
23115 Airport Road NE
Aurora, Oregon 97002

---