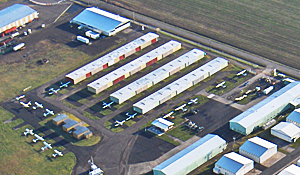 If you own an airplane, you'll have to keep it somewhere — preferably in a location that's ideal for you, and without long-term contracts. At Willamette Aviation, we offer hangars for aircraft owners who need reliable storage space.
Pilots who live in the Portland Metro or Salem area — or mid-valley residents — will find a lot to like about our location at the Aurora State Airport. In addition to private T-hangars (1) with lights and electricity, we are right next to the 17 threshold at the Aurora State Airport. We also have a secure campus with a code-locking gate and self-service 100LL fuel at all times.
The Willamette Aviation campus includes our 24-hour fuel service, flight school, pilot shop, and maintenance department — in addition to a large community of fellow pilots — so aircraft owners in residence at Willamette shouldn't have to look elsewhere for their aviation needs. And since we're just off Interstate 5 (20 minutes from Portland, 30 minutes from Salem), driving here is always a snap.
Want to keep your plane at Willamette, but don't need all the benefits of a hangar? We also offer affordable tie-downs on our ramp. Contact us today and let us know what you need!
(1) Door-width of T-hangars is 39' 6".