They are a rare breed of men and women — FAA Certified Flight Instructors. And have no doubt, these are hardy souls who willingly allow novice pilots to fly them around day after day, in good weather and bad, enduring everything from awkward skids to back-of-the-curve approaches until their charges are seasoned enough to pass the requisite flight tests. At Willamette Aviation, our CFIs are among the best around: high-hour pilots who love teaching the art of the airplane. Come take an introductory flight to find out how challenging — and fun — flying can be.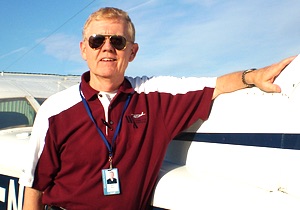 Willamette Aviation Chief Flight Instructor Stan Swan is a native Oregonian who discovered a love of flying while in his teens, leading him to serve as a Civil Air Patrol cadet throughout high school and most of his university career. After a tour in the Army, he learned to fly on the GI Bill, earning his Commercial, Instrument and CFI ratings. Stan then transitioned to the business world, rising to management positions in several local manufacturing companies, and after a long hiatus he has returned to flight instruction, his first love. Stan owns a Piper Comanche 260, which has provided him with most of his aviation experience. He always looks forward to introducing many new pilots to the world of aviation, while helping old pros become better and safer at what they do.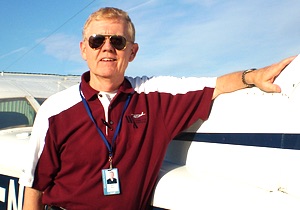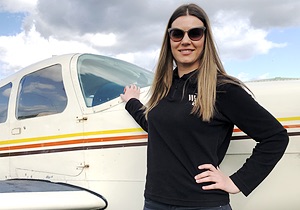 Nevena Starcevic lived in Serbia for most of her life, moving to the United States a few years ago. Her first stop was Alaska, where she took a discovery flight and fell in love with aviation. She rapidly progressed through flight training, earning her Certified Flight Instructor certificate just one year after her first lesson. During her training, Nevena enjoyed bush flying and exploring the Alaskan wilderness. She moved to Oregon in 2021 and looks forward to teaching people how to fly. "Helping students achieve their potential in aviation offers the greatest challenge to the instructor," Nevena says, "as well as the greatest reward."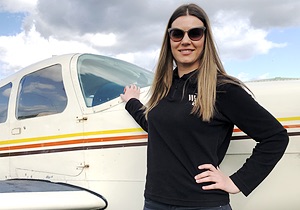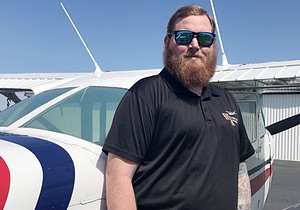 Josh Peterson was born and raised in Southern California. After high school, he joined the U.S. Navy as an Information Technology specialist. While in the military, Josh managed communications for the Special Operations community. After leaving the service, he took up wildland firefighting, working on various crews and engines, and he intends to return to firefighting eventually, this time as a tanker pilot. Josh took advantage of the GI Bill to complete all of his aviation ratings up to CFI, based for a time in Central Oregon. Now flying at Willamette Aviation in Aurora, he looks forward to meeting pilots and helping them reach their goals.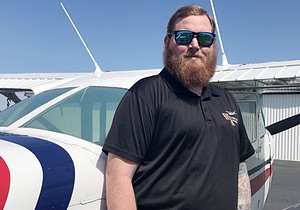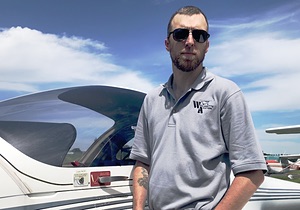 Chris Reese has had a passion for aviation from an early age. Pictures of his grandfather flying in the U.S. Navy, along with the discovery flights his parents gifted him as a teen, helped to solidify his desire to fly (the release of Top Gun when he was very young probably helped as well). After enlisting in the U.S. Navy and completing two deployments, Chris spent 12 years in the firearms industry. He then took advantage of a Veterans Administration benefit that covers flight training, moved to Oregon, and completed an Aviation Science degree at Central Oregon Community College. Chris is now instructing at Willamette Aviation, while also working on an Operations Management degree at the Oregon Institute of Technology. When not flying, he can usually be found rolling around the airport or in the local area on his Onewheel.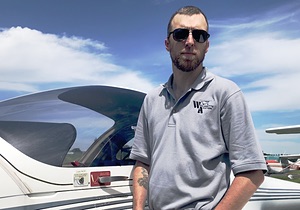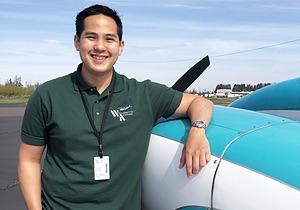 Kyle Francia resided in Manila for most of his life, where he worked in both food & beverage consulting and business incubation. Since then, he's moved to Oregon to fulfill a lifelong dream: a professional career in aviation. With experience in both the Oregon and Nevada airspaces, he has developed a passion for instructing — and he hopes to help others become better pilots, even after he transitions to the airlines. Kyle hopes to meet all of you out in the airport — and if you surf, he'd be happy to meet you at the coast.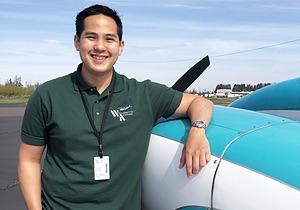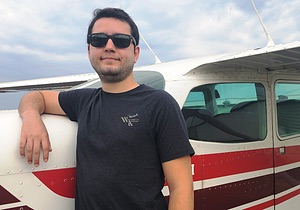 Juan Cammarata is originally from Venezuela, but he began his flying career as a student pilot in Daytona Beach. He earned his Commercial Certificate in just seven months and then returned to Venezuela to convert his FAA certification to an ICAO equivalent. Juan then enrolled at Embry-Riddle Aeronautical University in Florida, pursuing a bachelor's degree in Aeronautics. Transferring to Embry-Riddle's Portland campus, Juan adapted to using our local volcanoes as visual reference-points. "I was lucky to have found excellent flight instructors at the beginning of my aviation career," he says. "Since day one, I have known that a good pilot is a safe pilot, and that is one of the main things that I want to pass onto my students."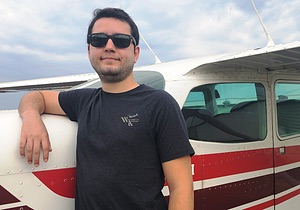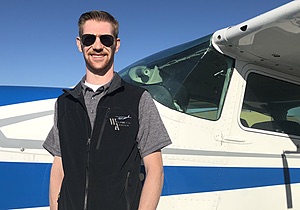 Grant Feetham is a native Oregonian who grew up in the Willamette Valley and always was interested in airplanes, even though he never thought he would become a pilot. After high school, he earned an Associate's Degree in Emergency Medical Technology and a Paramedic License. Over the following decade, Grant took on various roles within the fire service, EMS, and the medical field. When he decided it was time for a change, he was encouraged to explore aviation by a family member who was a captain for a major U.S. airline. He completed his flight training in both Oregon and Colorado, and he currently is a CFII and MEI. "After my first flight lesson, in a Cessna 150, I was hooked," Grant says. "I enjoy helping others discover their love for aviation."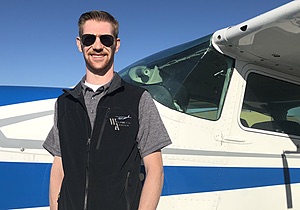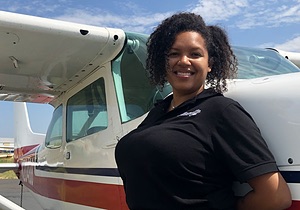 Tiara Lark is a native Portlander who discovered aviation in her mid-twenties, not long after she finished college. Her first introduction to flying came from her college roommates, who were helicopter pilots. Tiara thought that becoming a pilot might be an unattainable goal, but after experiencing flight she decided to go for it. She got her Private Pilot in Olympia and then transitioned to the Sling Pilot Academy in California, where she flew low-wing LSAs for two years while working her way up to CFI. Tiara plans to fly private charters, with the longer goal of flying aerial fire attack. "I have a passion for people and community," she says. "My goal is not to just be a teacher, but also a mentor."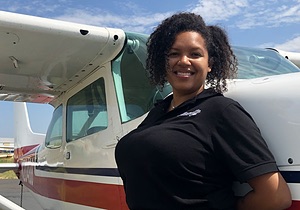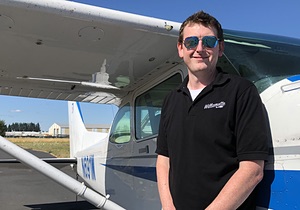 Jeff DeMeurers has loved airplanes and aviation for as long as he can remember. He grew up in Southern California, and it was while attending air shows at Edwards Air Force Base that he knew he was going to be a pilot. After moving to Oregon, Jeff earned his private certificate in 2015. The pandemic provided him a silver lining, as he decided to work full-time on additional ratings, earning his Instrument, Commercial and CFI in just one year. "I am incredibly fortunate," Jeff says. "I get to guide other aspiring pilots, and I can share the knowledge and experience I have accumulated throughout my journey."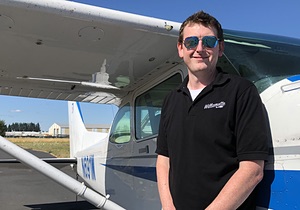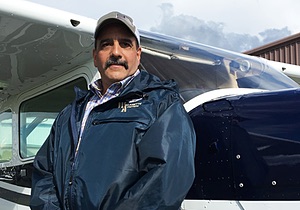 Ron Vandehey is a native Oregonian who enjoys all that Oregon has to offer: team roping, downhill skiing, hunting, fishing, and more. He's a firefighter by profession, but also a pilot who has had a passion for airplanes since childhood. Ron started flying in the 1980s, eventually earning multiple certificates and ratings. He took a short time away from aviation to raise a family. Now a CFII, Ron gets to fulfill a lifelong dream — teaching others how to fly.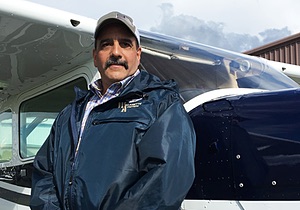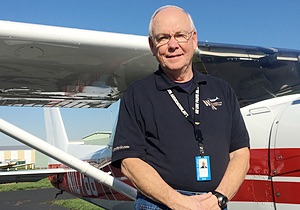 Ian McDonough, a Seattle native, began his aviation career as a pilot for the US Marine Corps flying OV-10 Broncos. After seven years as a Marine, he flew charter flights in California before being hired by his first major airline, Continental Airlines flying Boeing 727s. He then joined Mission Aviation Fellowship (MAF), spending five years flying in the jungles and mountains of Indonesian New Guinea. In 1989 Ian was hired by his second major airline and finished his career as a 737 Captain for Alaska Airlines. Ian now serves as a CFI to share the joy, enthusiasm, and challenges of an avocation that gave him an incredibly satisfying career.