Discovery Flights make a great gift — click here to purchase an online gift certificate!
Often, the biggest hurdle to becoming a Private Pilot is the first — you may dream about flying, but you have absolutely no idea where to start. And that's normal. Even the most experienced pilots can remember their first time in the cockpit, when they made the decision to stop thinking about flying and actually take the controls of an airplane.
We know where you're at, because we all began with the same dream — to fly. At Willamette Aviation, we are here to make your first time in the pilot's seat a day you will never forget. Our Discovery Flights are affordably priced at just $299. It's a comprehensive flight experience — not just a scenic hop over a few local farms.
We don't restrict you to one or two of our smaller planes for a Discovery Flight — you are invited to fly any airplane in our fleet, so long as it's one that's appropriate for Private Pilot flight training. This includes our four-seat Cessna 172 Skyhawks, so you're more than welcome to invite one or two passengers to join you on your journey! (If bringing two passengers, please contact us about weight restrictions.)
On a Discovery Flight, you will:
Meet with an FAA Certified Flight Instructor, who will answer any questions you have about General Aviation airplanes and flight training;

Practice taxiing your airplane to the "run-up" pad near the runway (you probably won't do it well, but it will be an amusing memory when you master it later);

Execute a typical "run-up" test of your airplane and a standard takeoff, with your hands on the controls (your instructor will help you);

Fly to another airport, not far from Aurora State, to log your first landing (with your instructor's assistance to assure a safe arrival), and then another exciting takeoff;

Perform straight-and-level flight, standard turns, and a return to the Aurora Airport, with your hands on the controls;

Log your second landing on the active runway at Aurora State;

Receive your initial pilot's logbook, with the time you have flown credited toward the hours you will accumulate for your Private Pilot Certificate. A Discovery Flight is your first lesson as a student pilot, and you will take your logbook home with a sense of accomplishment — after all, you've just discovered that you can fly an airplane, flown to another airport and back, and started your personal journey toward becoming an aviator.
By the way, if you're a born pilot, the ear-to-ear grin that comes after your first time at the controls is perfectly normal. Wait a few days for the effect to wear off, and then call us in the morning.
Did we mention Discovery Flights are just $299? We book them all the time, but there's no doubt one of our instructors can fit in to your busy schedule. Call us at (503) 678-2252, or e-mail info@willametteair.com if you think you have what it takes to get in the pilot's seat.
Discovery Flights also make a great gift for that special person who is ready to learn how to fly — our online gift certificates are just a click away.

---

Discovery +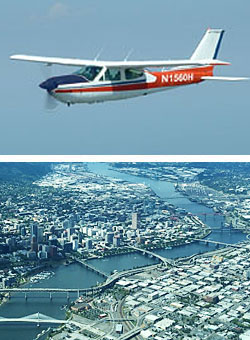 If your Discovery Flight at Willamette Aviation is a special day for you or a gift for someone who's always wanted to fly, we are pleased to offer two additional options for your adventure:
Fly the Cessna 177 Cardinal: Our Cessna 177 Cardinal RG II is a high-performance/complex airplane, which makes it an ideal cross-country platform. Most pilots won't do their primary training in a Cardinal RG, but it frequently makes the shortlist of planes to fly after becoming a Private Pilot. The Cardinal also boasts comfortable seating for one or two back-seat passengers (please contact us about weight restrictions if bringing two guests).
Fly within Portland Airspace: The airspace surrounding the Portland Metro area is managed by Air Traffic Control at PDX. Discovery pilots will learn about the dimensions of the airspace, and they will listen to communications with PDX as they fly over downtown Portland and return to the Aurora State Airport.
Discovery + options are an additional $50 each. Please let us know if you would like to add one or both Discovery + features to your flight.