Willamette Aviation offers comprehensive Ground Schools for our student pilots, as well as those seeking additional certificates and ratings. We want to produce skilled, safe aviators who can pass the required flight test, but we also want to get you prepared for your exams — the pre-solo, written, and oral — which are major milestones of flight training just as important as the flight test itself.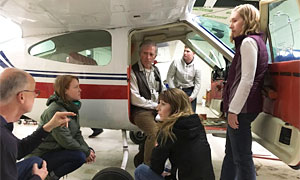 Why choose to enroll in our Ground School? You certainly have the option to "go it alone," and there are some self-motivated students who make that choice. But for most, it simply won't be enough. With classroom study, you will progress on a regular schedule that keeps you motivated and helps ensure that you won't fall behind. You will have direct access to a Certified Flight Instructor, who will take the time to clarify any difficult concepts. And you will be prepared for your exams, which should present no surprises.
Even better, Ground School gives you the opportunity to meet and interact with other student pilots — folks who are progressing through their training just as you are, which gives everyone a great opportunity to share experiences and learn from each other. And we keep our classes small, normally fewer than ten students in a casual setting that is designed to promote a relaxed, discussion-based learning environment.
Finally, Ground School students are granted five complementary hours in our Flight Lab, which they can use at any time during the course to learn basic flight skills as they prepare for flight training (instructor fees apply).
Are there any questions? Just call us at (503) 678-2252 or e-mail info@willametteair.com.
The Education Hangar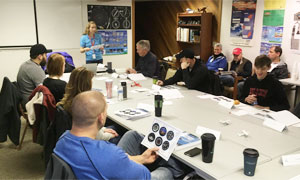 All of our Ground School classes are conducted in our Education Hangar classroom, just next door to our main building at Willamette Aviation — away from the day-to-day business of the pilot's lounge and shop. Students meet in a comfortable round-table setting, and the instructor has access to computers, charts, a white-board, and video materials, all contributing to a vivid learning experience. Some class sessions will take place in the Flight Lab to explore specific concepts. We like to keep things informal, and we think our Education Hangar is ideal for student pilots who want to enjoy the learning process.
Advanced Ratings
Ready to move to the next flight level? In addition to our Private Pilot Ground School, we also offer training solutions for licensed pilots who are progressing to Instrument, Commercial, Multi-Engine, and CFI/CFII. Feel free to call or email for more info.