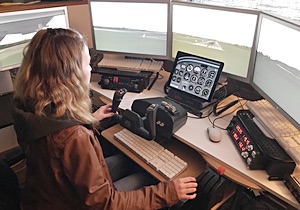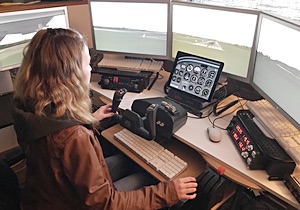 Whether you are a brand-new student, moving up, or getting back into flying, Willamette Aviation's Flight Lab is a fun, stress-free simulated flight environment where you can learn about airplanes and explore our Pacific Northwest flying region — all at a much lower cost than renting an actual airplane.
Private Pilot students: If you're a new student, you can start right away with aircraft familiarization and basic flight. As you progress with your flight training, you can use the Flight Lab to practice traffic patterns and navigation. Coordinate with your flight instructor to fly in the lab on bad-weather days and maintain your momentum. You can even preview your cross-country flights before you take to the air.

Instrument pilots and students. Instrument-rated pilots who need an Instrument Proficiency Check (IPC) can reserve time in the Flight Lab to review procedures. Pilots who seek an instrument rating will want to spend a substantial amount of time in the lab, where good habits are formed early — and common mistakes are done at lower costs.

College and high school students: Busy students typically don't have the time or the resources to complete the training required for a Private Pilot certificate, but they may still want flight experience — either to supplement their ground-based aviation knowledge, or in preparation to pursue flight training when the time is right. The complete Flight Lab course covers every phase of Private Pilot training, but without the time and costs associated with aircraft rental.

Flying companions: People who spend a lot of time with pilots (typically spouses) may not want a pilot's license, but they still want to know enough about airplanes to fly safely. Our flying companion training includes an overview of the flight environment and radio procedures, as well as approach and landing.

Rusty pilots: Seasoned pilots who have been on the ground for a while can transition back to the sky more smoothly with some preparation time in the lab. In addition to restoring good habits, you can do some airport hopping, sharpen your skills, and get ready for your next hamburger run.

Common questions…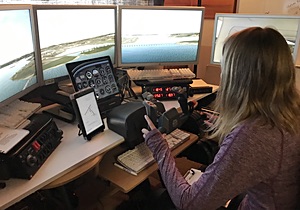 Can I log my time in Flight Lab?
Yes, and no. Your logbook is yours, and you can put any flight experience in it. It's your personal history of flight, and we encourage pilots to mark down anything that they think is worth remembering. So yes, you can log your Flight Lab time.
However, when people ask if a flight simulator is "loggable," typically they want to know if time spent in the simulator can be credited toward an instrument rating, IFR currency, or Instrument Proficiency Check (IPC). Our Flight Lab system is not certificated with the FAA for loggable hours (please see our Redbird FMX page if you need to log time). The Flight Lab is an immersive, low-cost training tool for students to grasp new concepts, review procedures, and do some rainy-day flying — and it can be used to help lower the overall costs of obtaining a private pilot certificate or instrument rating.
What equipment is in the Flight Lab?
Our Flight Lab features the commercial version of X-Plane, with a panoramic view of the flight environment across five large screens. A mechanical yoke, rudder pedals, throttle quadrant, trim wheel, aviation radio, and panel switches are within easy reach. The instructor can control weather, location, time of day, and other criteria from a separate station. Aircraft include a Cessna 172SP, a Diamond DA20, a Piper Malibu, and more. The flight environment includes realistic scenery, airports, and navigation aids throughout the United States.
How long is a typical Flight Lab session?
Private pilot students can expect two-hour sessions, while three hours are common when practicing traffic patterns and cross-country flights. Pilots seeking an instrument rating typically schedule two-hour sessions.
Can I bring a friend?
Yes! There are extra seats in the lab, so feel free to bring a friend along to observe — or even split the cost if they would like to fly as well.
Pricing & scheduling
Hourly rate is $29
Hourly instruction fees apply ($68)
Feel free to email flightlab@willametteair.com to reserve time in the Flight Lab!
---
Flight Lab Syllabus, Private Pilot (PDF): View/download
Flight Lab instructor Robert Wederquist holds a Commercial Pilot certificate and Instrument rating. He also is an FAA-certified Advanced Ground Instructor and Instrument Ground Instructor, with a specific focus on teaching in flight simulators. He designed Willamette Aviation's Flight Lab and Private Pilot syllabus to help students grasp aeronautical concepts set out in the FAA's Airplane Flying Handbook. Robert's goal is to help student pilots accumulate complex flight skills in a ground-based environment, resulting in flight hours that are less frustrating, more effective, and always worth the effort.